Chimney Fire destroys 45 homes, containment increases
August 24, 2016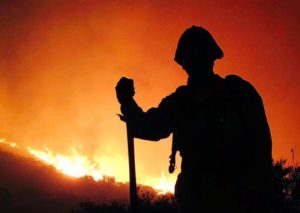 With cooler temperatures and cooperating winds on Tuesday, firefighters successfully increased containment of the Chimney Fire to 39 percent.
Nevertheless, on Tuesday, the fire destroyed nine additional homes and four outbuildings in the South Shore Village neighborhood of Lake Nacimiento. The fire has destroyed a total of 45 homes, 20 outbuildings and damaged seven other buildings.
People who reside in the  1,898 homes threatened by the fire have been evacuated.
The fire has burned 40,798 acres and is currently burning in the gated community of South Shore Village and threatening the Oak Shores neighborhood. Firefighters are assessing homes in both communities for embers and removing trees that present a danger to firefighters and homes.
On Tuesday evening, firefighters lit backfires near Hearst Castle. Firefighters are preparing to set backfires closer to the castle in a few days. The fire remains about two miles away from the historic landmark. Staff has canceled tours of the castle through Aug. 28.
A total of 4,106 fire personnel are currently battling the blaze. Firefighters are hoping for complete containment within a week.