Gun rights group sues California over censored blog post
August 8, 2016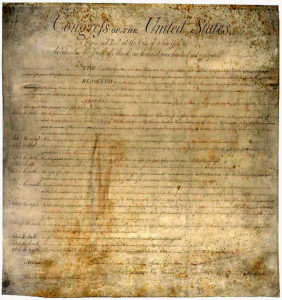 A Second Amendment rights group claims to be defending First Amendment rights in a lawsuit it has filed against the California Legislature's legal counsel. The dispute surrounds a censored blog post that contained the home addresses of lawmakers who recently voted for gun control legislation. [Sac Bee]
On July 1, Gov. Jerry Brown signed a package of gun control bills into law. Shortly afterwards, a conservative blog published the home addresses of 40 legislators.
The author of the post pledged to keep the names up until the legislators voted to repeal the laws or until the lawmakers died. The Office of Legislative Counsel then demanded that WordPress take down the blog post. WordPress complied, and the author was barred from publishing similar content.
On Friday, the Firearms Policy Coalition filed a federal lawsuit in Sacramento against Legislative Counsel Diane Boyer-Vine. The Firearms Policy Coalition filed the suit on behalf of the author of the blog post. The coalition is not identifying the author, but is saying the author is a member of its organization.
State law forbids publishing an elected official's home address with the intent of threat of causing great bodily harm. The law also prohibits publishing elected officials' home addresses if the politicians or their representatives demand the addresses not be published. Boyer-Vine's office cited the law when demanding the blog post be taken down.
However, the Firearms Policy Coalition says the application of the law violated the First Amendment rights of its member. Brandon Combs, the president of the coalition, said the state government is censoring speech it does not like.
Combs also said the comment the author of the blog post made about legislators dying was not a threat. The comment implied death by natural causes, Combs said.
The Firearms Policy Coalition has published a video announcing its lawsuit: