Inmate escapee caught at Cuesta College
August 30, 2016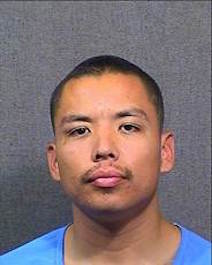 An inmate who escaped Camp San Luis Obispo early Monday morning was located and arrested hours later on the Cuesta College Campus. The California Department of Corrections and Rehabilitation has identified the escapee as Jose A. Paredes, 25.
Paredes, a minimum-security inmate, was assigned to fighting the Chimney Fire. He was last seen at the Chimney Fire base camp area during a routine security check around 3:40 a.m.
Around 5 a.m., base camp staff discovered Paredes was missing. The camp staff searched the inmate tent location, as well as the area surrounding the camp perimeter, but they failed to locate Paredes.
A search involving local law enforcement agencies began, and Cuesta College police issued an emergency alert to students.
At 10:09 a.m., Cuesta College officers arrested Paredes after finding him near the campus soccer field. Cuesta College officers then returned Paredes to CDCR custody.
Paredes was serving a two-year sentence for a first-degree burglary conviction in Los Angeles County. He was due to be released to parole supervision in May 2017.