7 tasty breakfast or brunch recipes
September 8, 2016
Put some coffee on and start cooking. The following breakfast recipes, provided by Spencer's Fresh Markets in Morro Bay and Santa Maria, make for a great start to any day.
Morning Pecan Casserole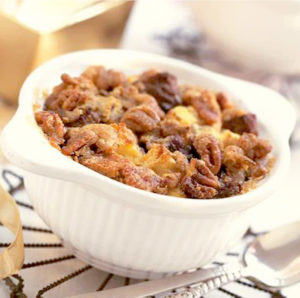 Ingredients:
8 oz. pkg. brown and serve sausage patties
16 oz. loaf raisin bread, cubed
6 eggs
1/2 cups milk
1/2 cups light cream or half-and-half
1 tsp. vanilla
1/4 tsp. ground nutmeg
1/4 tsp. ground cinnamon
1 cup packed brown sugar
1 cup coarsely chopped pecans
1/2 cup butter or margarine, softened
2 tbsp. maple syrup or maple-flavored syrup
Nonstick cooking spray
Directions:
1. In a medium skillet brown the sausage patties on both sides over medium-high heat. Drain off the fat; cut patties into bite-size pieces.
2. Meanwhile, spray a 3-quart rectangular (13x9x2-inch) baking dish with nonstick cooking spray. Place bread cubes in dish. Add browned sausage pieces.
3. In a large mixing bowl beat together the eggs, milk, cream, vanilla, nutmeg, and cinnamon. Pour over bread and sausage, pressing bread and sausage into the egg mixture. Cover and refrigerate for eight hours or overnight.
4. For topping, in a bowl combine brown sugar, pecans, butter, or margarine and maple syrup. Drop by teaspoonfuls over top of egg mixture.
5. Bake in a 350° F oven for 35 to 40 min. or until a knife inserted near center comes out clean. Makes 10 servings.
Cheddar Bacon and Leek Fritatta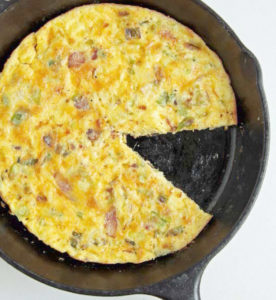 Ingredients:
4 ounces (3-4 slices) thick-cut bacon, cut into 1/2-inch-wide strips
Neutral oil, such as canola or grape seed, as necessary
1 medium leek, thinly sliced,
6 scallions, thinly sliced
6 large eggs Kosher salt
freshly ground black pepper
4 ounces (about 1 1/4 cups) grated extra-sharp cheddar cheese
1 1/2 tablespoons olive oil
Directions:
1. Add bacon to a large (8-10-inch) ovenproof skillet set over medium heat; cook until the bacon is just cooked through and has begun to crisp up, about five minutes. Use a slotted spoon to remove the bacon to a paper-towel-lined plate, and set aside.
2. Add neutral oil to the rendered bacon fat (if necessary) to thinly coat the bottom of the pan. Add the leek, and cook (stirring occasionally) until it wilts and begins to become translucent, about two minutes. Season with a hefty pinch of salt, and add the scallions. Cook for another 2-3 min., or until softened and both have begun to brown. Transfer green onions to a bowl, and wipe the skillet clean.
3. Set an oven rack 4-6 inches from the broiler, and preheat the broiler.
4. Beat the eggs, a pinch of salt, and a few cracks of freshly ground pepper together in a large mixing bowl until no streaks of yolk remain. Mix in the cheddar, bacon, leek, and scallions.
5. Warm the olive oil in the skillet set over medium-high heat. When it's hot, add the egg mixture and lower the heat to medium-low. Let cook for a minute or so, and then shake the pan a few times to make certain the eggs aren't fused to the bottom of the pan. If the egg mixture is sticking, then carefully loosen it from the pan with a thin rubber spatula. Cook until the eggs are set and the top is just shy of dry, about 10 min.
6. Transfer the pan to the oven and broil until golden brown and fully set. This will go fast (1-3 min., depending on the strength of your broiler), so check often.
7. Serve warm or at room temperature.
Whole-Wheat, Buttermilk, and Orange Pancakes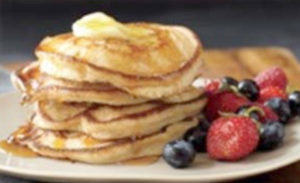 Ingredients:
2 tbsp. butter, softened
1/4 tsp. grated orange rind
3/4 tsp. fresh orange juice
3.5 oz. white whole-wheat flour (about 3/4 cup)
3.4 oz. unbleached all-purpose flour (about 3/4 cup)
2 tbsp. sugar
1 1/2 tsp. baking powder
1/2 tsp. baking soda
3/8 tsp. salt
1 1/2 cups low-fat buttermilk
1/4 cup fresh orange juice
1 tbsp. canola oil
1 large egg
1 large egg white
Cooking spray
3/4 cup maple syrup
Directions:
1. Combine first 3 ingredients.
2. Weigh or lightly spoon flours into dry measuring cups; level with a knife. Combine flours and next four ingredients (through salt) in a medium bowl, stirring with a whisk. Combine buttermilk, 1/4 cup juice, oil, and one egg in a small bowl, stirring with a whisk. Add buttermilk mixture to flour mixture, stirring just until moist; let stand 15 minutes. Place egg white in a medium bowl; beat with a whisk until medium peaks form. Gently fold egg white into batter.
3. Preheat a griddle to medium heat. Coat pan with cooking spray. Spoon 1/4 cup batter per pancake onto griddle. Cook three minutes or until edges begin to bubble and bottom is browned. Turn pancakes over; cook three minutes or until done. Serve with orange butter and syrup.
Breakfast Tacos with Fire Roasted Tomato Salsa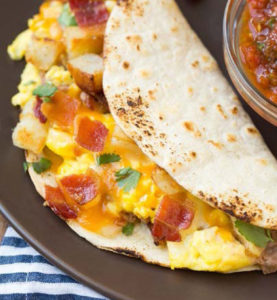 Ingredients:
1 lb. Russet potatoes (about 3 med.)*
1 3/4 cups refried beans, homemade or store bought**
8 oz. bacon, cooked and chopped and 2 1/2 Tbsp. drippings reserved
6 large eggs
1/3 cup milk
Salt
Freshly ground black pepper
1 1/4 cups shredded cheddar or Monterey Jack cheese (I use a blend of both)
Fire Roasted Tomato Salsa, (recipe to follow)
8 taco size flour tortillas, warmed
Directions:
1. Scrub and rinse potatoes and pierce each with a fork two times. Place in oven and heat to 400° (it doesn't need to be preheated) and bake 38 min. Remove and cool slightly then cool completely in refrigerator (I like to do this the night before and chill them overnight. If you cut them hot they crumble). Peel cooled potatoes if desired, then cut into 1/2-inch cubes.
2. Heat reserved bacon drippings in a large skillet over moderately high heat, add potatoes and season with salt and pepper to taste and sauté until golden brown, tossing only occasionally to get crisp sides.
3. Meanwhile, in a bowl blend together eggs and milk until combined. Pour into a buttered skillet over medium-low heat, season with salt and pepper to taste and cook and scramble eggs until set.
4. To assemble tacos, spread a heaping spoonful of beans into a line down center of each flour tortilla, then pile on eggs, cheese, potatoes, bacon and salsa. Serve immediately. Makes 8.
*For a shortcut here you can just use the frozen diced potatoes (regular or O'Brien) and cook in bacon drippings according to directions listed on package.
**If using canned refried beans, I recommend mixing a little water into them as they always seem to be super thick.
Fire Roasted Tomato Salsa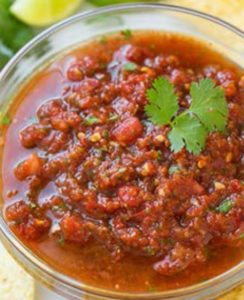 Ingredients:
6 dried arbol chiles (a fresh jalapeño can be substituted, no toasting and soaking necessary)
3/4 cup hot water
14.5 oz. can fire roasted tomatoes
3 green onions, ends trimmed and remainder chopped into thirds
1 Tbsp. fresh lime juice
1 clove garlic
1/2 tsp granulated sugar
2 Roma tomatoes, quartered
1/4 cup (loose) cilantro
Salt and freshly ground black pepper
Directions:
Heat a skillet over medium-high heat. Add chipotle chilies and allow to toast until black spots start to appear, tossing occasionally, about one to two minutes. Pour in water then remove from heat and cover with lid, allow to rest 20 to 30 min. Discard water. Remove stems and transfer to a blender along with fire roasted tomatoes, green onions, lime juice, garlic and sugar. Blend until everything is well minced. Add in Roma tomatoes and cilantro and pulse several seconds to chop. Season with salt and pepper to taste. Store in an airtight container in refrigerator.
Spinach and Sun-Dried Tomato Scramble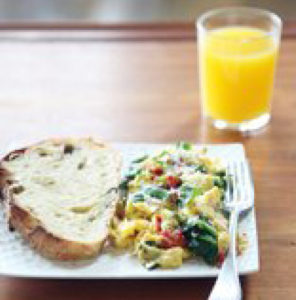 Ingredients:
2 large eggs
1/8 tsp. kosher salt
1/2 tbsp. extra-virgin olive oil
A pinch of red pepper flakes
1/2 cup Packed baby spinach
1 sun-dried tomato half, finely chopped
1 heaping tbsp. finely chopped roasted bell pepper (about 1/4 a pepper's worth)
1 tbsp. grated Parmesan cheese, plus more for garnish
Freshly cracked black pepper, to taste
Chopped fresh parsley, for garnish, optional
Toast, for serving, optional
Directions:
1. Beat together the eggs and salt in a small mixing bowl until homogeneous and frothy.
2. Add the olive oil to a medium nonstick skillet, heat for about one minute over medium-high heat. Then add the red pepper flakes and spinach and cook until the spinach is almost wilted, stirring occasionally. Add the sun-dried tomatoes and bell pepper, and cook for 30 more seconds, stirring occasionally. Add the egg and cook, stirring constantly for 30 seconds to one minute or until the egg looks not quite soft-cooked. (The residual heat from the skillet will continue to cook the eggs.) Remove from the heat, add the Parmesan, stir to combine, and transfer to a plate. Finish with pepper and a sprinkling of parsley. Serve with toast.
Scrambled Egg Casserole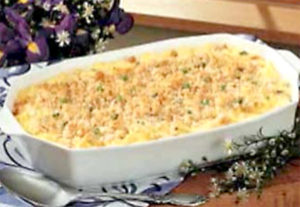 Ingredients:
1/2 cup butter, divided
2 tablespoons all-purpose flour
1/2 teaspoon salt
1/8 teaspoon pepper
2 cups milk
1 cup (4 oz.) shredded process American cheese
1 cup cubed fully cooked ham
1/4 cup sliced green onions
12 eggs, beaten
1 jar (4 oz.) sliced mushrooms, drained
1-1/2 cups soft bread crumbs
Additional sliced green onions, optional
Directions:
1. In a large saucepan, melt 2 tbsp. butter. Whisk in the flour, salt and pepper until smooth. Gradually stir in milk. Bring to a boil. Cook and stir for two minutes or until thickened and bubbly. Remove from the heat. Stir in cheese; set aside.
2. In a large skillet, sauté ham and onions in 3 tbsp. butter until onions are tender. Add eggs; cook and stir until eggs are almost set. Stir in mushrooms and cheese sauce. Transfer to a greased 11-in. x 7-in. baking dish. Melt remaining butter; toss with bread crumbs. Sprinkle over top. Cover and refrigerate for two to three hours or overnight.
3. Remove from refrigerator 30 min. before baking. Bake, uncovered, at 350° for 25-30 min. or until top is golden brown. Sprinkle with additional green onions if desired. Yield: six to eight servings.