Atascadero man saved from burning barn
September 23, 2016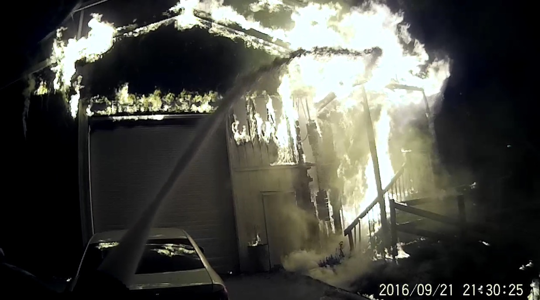 Atascadero firefighters saved a man who was trapped on the second floor of a burning building on Wednesday night. The structure is a barn on the first floor and a home on the second floor. [A-Town Daily News]
Around 9:22 p.m., James Ayres, the man who lived in the building, called 911 and said he could not escape due to the tremendous amount of heat. Dispatchers remained on the phone and instructed Ayres to stay calm, focused and next to a window until firefighters arrived.
When firefighters arrived, they attached a ladder to a second floor window, which enabled Ayres to escape. Responders treated Ayres for minor smoke inhalation. He did not suffer any serious injuries.
Firefighters entered the barn and confirmed there were no other people inside. Fire crews contained the blaze within about 30 minutes.
Investigators believe the fire started outside the barn and spread inside the building. The cause of the fire remains under investigation.
Atascadero fire officials say the blaze destroyed about $5,000 of property, while approximately $75,000 of property was saved. The barn is located in the 8600 block of San Gabriel Road.
Ayres reportedly threw his dog out the second floor window, and it may have broken a leg.