Deputies identify teen found dead at Cal Poly
September 14, 2016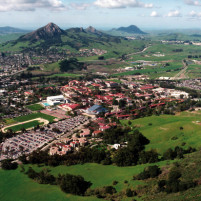 The San Luis Obispo County Sheriff's Department identified the 18-year-old found dead Tuesday on the Cal Poly campus as Robert Sean Douglas Aversano, a recent graduate of San Luis Obispo High School.
According to an autopsy performed Wednesday, Aversano died from blunt force trauma. However, what led to his death is pending toxicology results. Investigators have ruled out foul play.
Shortly after 12 p.m. on Tuesday, a hiker discovered Aversano's body at the base of the Cal Poly radio tower near Highway 1 and Highland Drive. Deputies identified Aversano through his fingerprints, as he was found without identification.