Paso Robles police arrest man with heroin, stolen checkbook
September 5, 2016
Following a traffic stop last week, Paso Robles police returned a stolen checkbook to a person whose car was burglarized. During the incident, officers arrested a Paso Robles man who was allegedly in possession of stolen goods, as well as heroin and methamphetamine.
Around 1:15 p.m. Tuesday, officers stopped a car because of vehicle code violations in the 1800 block of Redwood Drive, according to a Paso Robles Police Department press release.
Police then noticed Joseph Armas, 26 was in possession of a checkbook that belonged to another person. Officers contacted the person who owned the checkbook and determined the person had been the victim of an unreported vehicle burglary sometime during the previous week. The burglary occurred in the 600 block of Nicklaus Street in Paso Robles.
Officers also discovered Armas in possession of numerous items of stolen property, as well as heroin, methamphetamine and narcotics paraphernalia. Police arrested Armas and charged him with several offenses, including possession of stolen property, sales of controlled substances and transportation of controlled substances.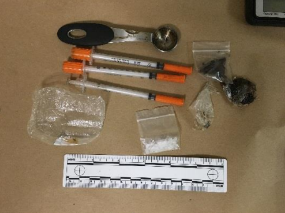 Police booked Armas in to the San Luis Obispo County Jail. Armas remains in custody with his bail set at $50,000.
Authorities managed to return more than $500 worth of property to the victim of the vehicle burglary. An investigation into the case is ongoing. Investigators request that anyone with information about the case call the police department at 805-237-6464.