Another driver dies in crash on Highway 166
October 25, 2016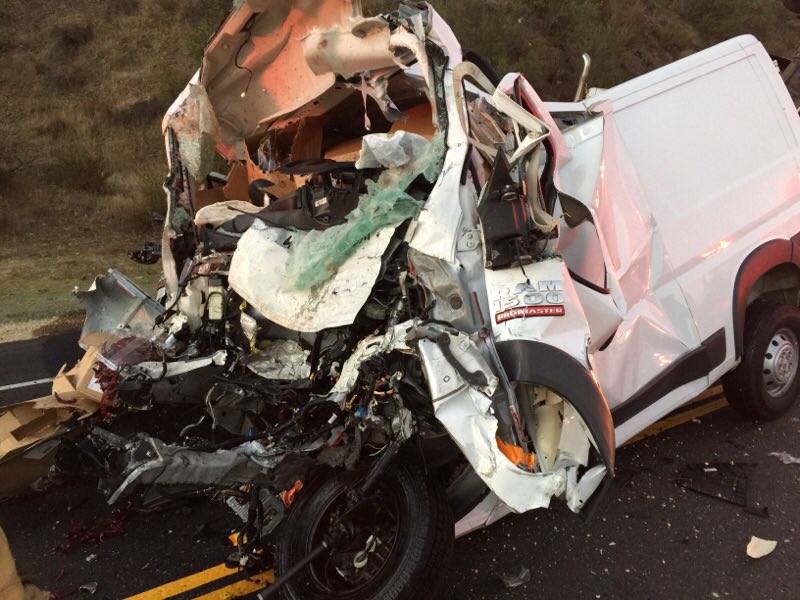 For the second time in a span of about 36 hours, a person died Tuesday in a crash on Highway 166. The accident was the fifth fatal collision on the highway since early September.
Around 6:30 a.m., a Dodge van was heading westbound on Highway 166 near Tepusquet  Road. The driver of the van crossed a double yellow line in an attempt to pass a vehicle, but collided head-on with a semi-truck that was hauling gravel, according to the CHP.
The collision killed the person in the van and injured the driver of the semi-truck. Authorities have yet to identify the victim.
After colliding with the van, the semi-truck overturned, spilling the load of gravel on the highway. The truck is still blocking the roadway.
The collision occurred in Santa Barbara County about a half mile from the San Luis Obispo County line. On Sunday evening, a motorcyclist who was clocked at 150 mph drove off Highway 166, tumbled down an embankment and died. That crash took place in southern SLO County, as did one of the other recent fatal collisions on Highway 166.
Last month, a Bakersfield man allegedly killed two children while driving drunk on Highway 166, and in a separate crash, five tractor trailers collided, leaving one person dead. Earlier this month, another person died in a head-on collision on Highway 166.