Cal Poly is no longer a dry campus
October 8, 2016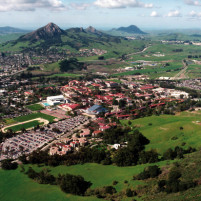 For the first time, Cal Poly in San Luis Obispo has an area for students to drink alcohol on the campus. Beer and wine are now being served to anyone over 21 years of age at the Mustang Station. [KSBY]
In the past, Cal Poly has been a dry campus with a few exceptions. Both the Vista Grand Dining Hall and the Cal Poly Corporation serve alcohol and students over 21 who live in Poly Canyon Village can have alcohol in their rooms.
In 2013, a Mustang News poll of 100 students showed support for on campus alcohol establishments. Of those polled, 76 percent were in favor of a wet campus, 2 percent were unsure and 22 percent were opposed with many of the objectors worried about accreditation issues.
Opponents of a wet campus voiced concerns about noise and safety. But proponents argued that campuses such as California State University Northridge saw no increase in crime after adding a pub.