Man caught on SLO doorbell camera arrested
October 27, 2016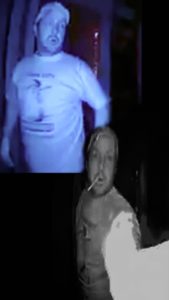 San Luis Obispo Obispo police have arrested the man who was captured by a surveillance camera lurking outside a woman's home on Saturday.
Officers identified the man in the video as San Luis Obispo resident Michael Dean Sutton, 38. Sutton is currently in SLO County Jail on an attempted burglary charge.
At about 2:34 a.m., Sutton was spotted lurking by the front door of the woman's San Luis Obispo home, a SLOPD news release states. He was wearing gloves, a light colored shirt and a baseball cap.
The video shows Sutton checking the door handle and acting in a suspicious manner. Eventually, Sutton noticed the camera outside the home. He placed a finger over the lens, wiped away debris and then left the area.
"Ring," a virtual doorbell app, notified the woman inside the home while Sutton was lurking outside. Initially, the woman assumed the man was a lost, drunk college student. Later that morning, she watched the surveillance footage and reported the incident to police.
Following the incident, there was speculation the man was armed with a gun, due to a bulge seen in the back of his pants. The SLOPD press release makes no mention of a firearm.
As video of the would-be burglar spread, investigators received several leads as to the identity of the suspect. On Tuesday, investigators contacted Sutton and interviewed him.
Police determined Sutton was the man in the video, arrested him and booked in jail. Sutton's bail is set at $25,000.
The police department is reminding residents to lock the doors of both their homes and vehicles.