Orcutt student ordered to take off Bill Clinton 'rape' shirt
October 10, 2016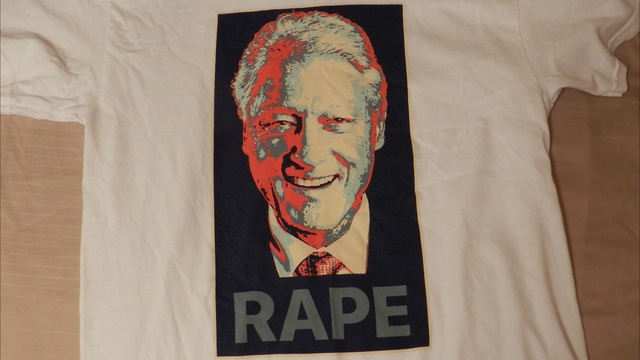 Orcutt Academy High School administrators ordered an 11th grade student to remove a shirt he was wearing that pictured former president Bill Clinton with the word "RAPE" underneath. [KCOY]
Brett Abel said he wore the shirt in order to encourage people to go online and do some research. School officials said the shirt was a distraction to other students and teachers.
Rhett Carter, the high school principal, referenced Orcutt Academy's dress and grooming policy in explaining the decision to forbid Abel from wearing the shirt. However, it is unclear which section of the policy Abel is accused of violating.
"Clothing, jewelry and personal items (backpacks, fanny packs, gym bags, water bottles, etc.) shall be free of writing, pictures or any other insignia which are crude, vulgar, profane or sexually suggestive, which bear drug, alcohol or tobacco company advertising, promotions and likeness, or which advocate racial, ethnic or religious prejudice. The administration will make final decisions regarding dress code interpretation," the policy states.
Abel contacted the American Civil Liberties Union. ACLU lawyers then reportedly contacted Orcutt Academy's lawyers.