Surfer dude steals bags, runs toward Pirate's Cove
October 10, 2016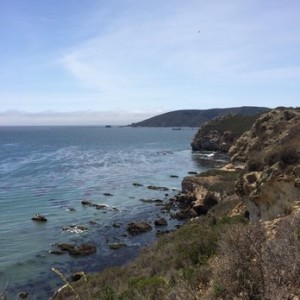 A man wearing Hawaiian-style flowered board shorts, a black hat and no shirt smashed a car window, stole two bags and took off running in the direction of Pirate's Cove on Saturday afternoon. Sheriff's deputies tracked down the thief, but not until they completed an approximately 90-minute search involving K9s, the harbor patrol and a CHP aircraft.
At about 4:20 p.m., Matt James Allen, 43, of Pismo Beach smashed the window of a car parked near Cave Landing Road and Avila Beach Drive, according to the San Luis Obispo County Sheriff's Office. A witness reported the incident to the sheriff's office.
After running up Cave Landing Road toward the Pirate's Cove parking lot, Allen used nearby bushes to conceal his direction of travel, a sheriff's office press release states. Deputies responded with help from two sheriff's dogs, harbor patrol officers and a CHP fixed wing aircraft.
The sheriff's K9, Gonzo, tracked Allen's direction of travel to the edge of a cliff above the ocean. Eventually, deputies found Allen in a small cave at the water's edge.
But, Allen disobeyed several orders and kept trying to evade capture. Finally, though, deputies and harbor patrol officers managed to take him into custody.
Witnesses then identified Allen as the man who broke into the car. The witnesses likewise said Allen attempted to burglarize another vehicle.
Deputies booked Allen into the San Luis Obispo County Jail on charges of felony vandalism, burglary, attempted burglary and obstructing or delaying an officer. He remains in custody with his bail set at $20,000.