Porn studios employ California blackout to counter condom initiative
October 19, 2016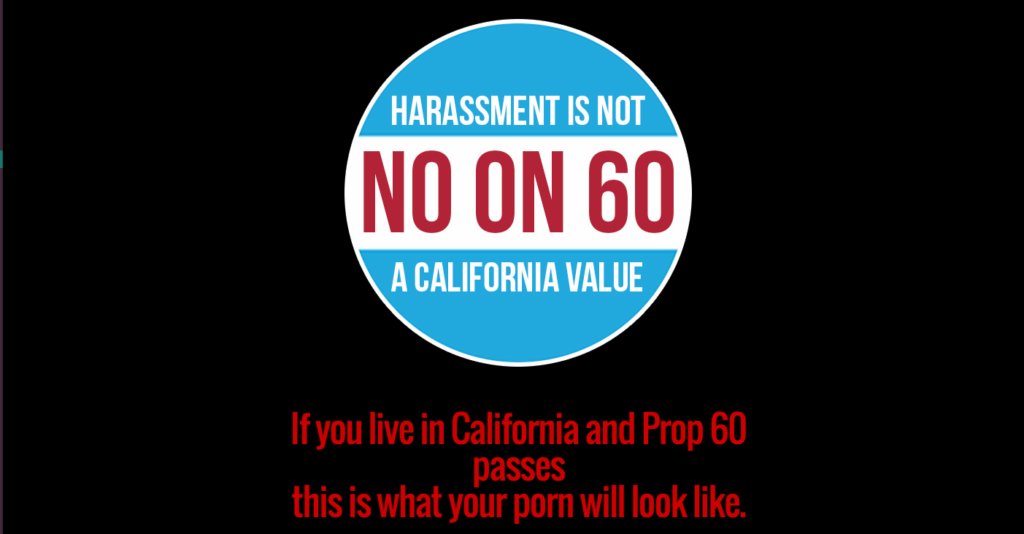 California porn connoisseurs are stumbling into digital barriers which could be impeding them from getting their daily fix.
In response to a state ballot measure that calls for requiring adult film performers to wear condoms during sexual intercourse, several pornography studios are temporarily blocking access to their websites in California and are replacing porn with warning messages about Proposition 60. Some of the messages tell consumers that their porn may disappear entirely if the initiative passes. [Vocativ]
If Prop 60 passes, California residents will be allowed to sue producers and distributors of films in which condoms are not used during sexual intercourse. Opponents of the measure argue that would expose producers and porn actors to stalkers, harassment and invasions of privacy.
At least three studios are considering the possibility of permanently blocking access to their sites in California in order to protect themselves and their performers from lawsuits. Mike Stabile, a spokesman for the website Kink, said Californians could lose access to his company's site as soon as next month.
"Prop 60 isn't a public health measure, it's a public harassment measure for adult performers," Stabile said. "If we have to block access to California in order to protect the performers who work with us, that's what we'll do. And should this initiative pass, it's something we'll be looking at doing in California on a permanent basis after November 8."
Sites like Vivid Video, Evil Angel, and Pink & White Productions are joining Pink in blacking out at least some of their content in California.
"We know you don't want condoms in Evil Angel videos, so we're doing what we can do to prevent that from happening. We also need you to do your part," a pop-up ad on Evil Angel states.
On Monday, about 100 adult performers protested outside the Los Angeles headquarters of the Yes on 60 campaign.
Prop. 60 is sponsored by the AIDS Healthcare Foundation. Proponents of the measure say it is needed to protect porn actors from the spread of HIV and other sexually transmitted diseases. Prop. 60 supporters say porn producers refuse to provide their actors with a safe workplace.
Los Angeles voters approved a similar ballot initiative in 2012, which mandated the use of condoms.