8 fabulous fall recipes
October 18, 2016
Streusel, rice pudding, sweet molasses cookies, oh my! The following fall recipes are provided by Spencer's Fresh Markets in Morro Bay and Santa Maria.
Wild Blueberry Buckle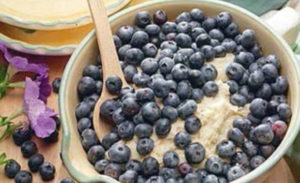 Ingredients:
3/4 cup sugar
1/4 cup vegetable shortening
1 egg
2 cups flour
1/2 teaspoon salt
2 teaspoons baking powder
1/2 cup milk
2 cups blueberries
Streusel Ingredients:
1/2 cup sugar
1/2 teaspoon cinnamon
1/3 cup flour
1/4 cup butter
Directions:
Buckle – Cream sugar and shortening by beating until fluffy, then beat in egg. Sift together flour, salt and baking powder. Add to shortening alternately with milk. Blend in blueberries and pour into buttered and floured 10×6-inch baking dish.
Streusel – Mix sugar, cinnamon, flour and butter and sprinkle over top of buckle. Bake at 375 degrees until top is browned, about 45 minutes. Makes 6 to 8 servings.
Soft Molasses Cookies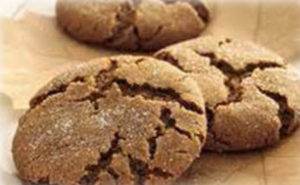 Ingredients:
3/4 cup molasses
1 egg
2 1/2 cups flour
1 1/2 teaspoons ground ginger
1 teaspoon ground cinnamon
1/4 teaspoon salt
2 teaspoons baking soda
1/4 cup water
Directions:
Cream butter with sugar by beating together until light and fluffy. Beat in molasses and egg. Sift flour with ginger, cinnamon and salt.
Dissolve baking soda in water. Add flour mixture to butter mixture, then add baking soda mixture, beating well between additions. Drop by tablespoons onto greased and floured baking sheets. Bake at 400 degrees until cracked and barely set, about 10 minutes. Remove from baking sheets and cool on wire racks.
Soft Sesame Breadstick Recipe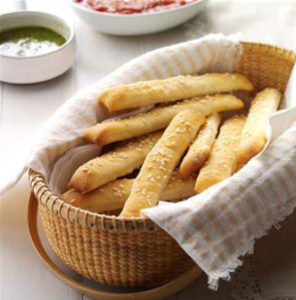 Ingredients:
1-1/4 cups all-purpose flour
2 teaspoons sugar
1-1/2 teaspoons baking powder
1/2 teaspoon salt
2/3 cup milk
3 tablespoons butter, melted
2 teaspoons sesame seeds
Directions:
Preheat oven to 450 degrees. In a small bowl, combine flour, sugar, baking powder and salt. Gradually add milk and stir to form a soft dough. Turn onto a floured surface, knead gently 3-4 times. Roll into a 10x5x1/2-in. rectangle; cut into 12 breadsticks.
Place butter in a 13×9-in. baking pan. Place breadsticks in butter and turn to coat. Sprinkle with sesame seeds. Bake 14-18 minutes or until golden brown. Serve warm.
Prize-Winning Chili
This recipe won the chili cook-off in Tennessee in 1996. Great dish for a chilly day."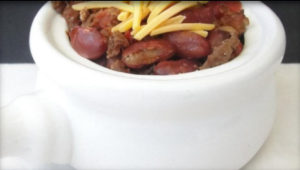 Ingredients:
1 tablespoon olive oil
1 onion, chopped
1 green bell pepper, chopped
1 small jalapeno pepper, finely chopped (optional)
1 pound hot Italian sausage
1 pound ground beef
1 tablespoon chili powder
1/2 teaspoon cayenne pepper
1/2 teaspoon salt
2 (15 ounce) cans pinto beans, undrained
1 (28 ounce) can diced tomatoes
1 cup water
Directions:
Heat olive oil in large stock pot over medium heat; cook and stir onion, bell pepper, and jalapeno pepper until onion is translucent, about 10 min. Add sausage and ground beef; continue to cook and stir until meat is browned and crumbly, about seven min. Drain and discard grease.
Season meat mixture with chili powder, cayenne pepper, and salt. Add pinto beans, tomatoes, and water and bring to a simmer over medium heat. Reduce heat to medium-low and continue to simmer for one hour.
Anne Bunch's Coconut Cake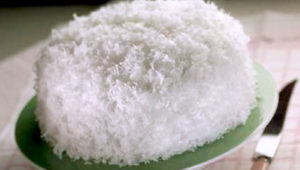 Note: It's more convenient to make the pastry cream the day before so it will be completely cooled and ready to fill the cake.
Cake Ingredients:
4 eggs
2 cups sugar
2 1/2 cups unbleached all-purpose flour plus extra for dusting
2 teaspoons baking powder
1 teaspoon salt
1 cup oil
1 cup dry white wine
1 tablespoon vanilla extract
Grated peel of 1/2 lemon
Nonstick cooking spray
Pastry Cream Ingredients:
1 1/3 cups milk
1 tablespoon vanilla extract
1 cup sugar
6 egg yolks
1/4 cup cornstarch
1 lb. mascarpone cheese or cream cheese
Assembly Ingredients:
2 cups whipping cream, whipped
3 cups sweetened flake coconut
Cake Directions:
Beat eggs and sugar in mixer at high speed until pale and frothy. Turn off mixer and add 2 1/2 cups flour, baking powder, salt, oil, wine, vanilla and lemon peel. Beat two minutes at high speed.
Divide batter between two (9-inch) layer cake pans sprayed with nonstick cooking spray and dusted inside with extra flour. Bake at 350 degrees until toothpick inserted in center comes out clean, about 40 min. Cool cakes in pans on rack five minutes. Turn out and cool completely.
Pastry Cream Directions:
Heat milk and vanilla to boil and keep hot. Beat sugar and egg yolks in mixer until fluffy and pale in color. Reduce speed, add cornstarch and beat until blended. Add hot milk, beating continuously. When well blended, return to saucepan and heat slowly, stirring constantly to keep mixture from sticking to bottom of pan. Cook until very thick. Pour into bowl, cover with plastic wrap and set aside to cool. When completely cooled, combine cream mixture with mascarpone cheese to form thick filling.
Assembly:
Spread all of Pastry Cream in thick, even layer on bottom cake layer. Cover with top cake layer. Frost top and sides of cake with whipped cream and cover with coconut.
The Best Rice Pudding in the World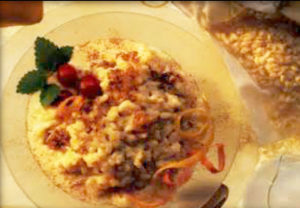 Ingredients:
3 cup Arborio ( short-grain Italian) rice
2 cups Milk
3 tbsp. sugar
3 tbsp. butter
Grated zest of 1 lemon
1 tsp (5 mL) ground cinnamon
Directions:
Preheat the oven to 250 degrees.
Mix the rice, milk, sugar, butter and lemon rind together in a bowl and pour the mixture into a buttered 8-cup (2 L) baking dish. Bake for two hours.
Sprinkle with cinnamon and serve hot or cold. Serves four.
Golden Caramels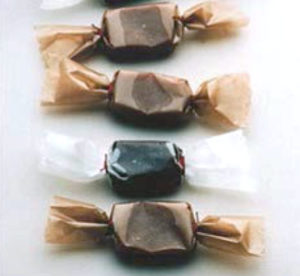 Ingredients:
4 cups heavy cream
1 cup sweetened condensed milk
4 cups light corn syrup
4 cups sugar
1 teaspoon salt
1/2 pound (2 sticks) unsalted butter, cut into 16 pieces
1 tablespoon plus 1 teaspoon pure vanilla extract
Vegetable-oil cooking spray
Directions:
Spray an 11 3/4-by-16 1/2-inch baking pan (this is a half-sheet pan) with vegetable-oil spray. Set aside in a spot where it will not be moved. In a 2-quart saucepan, combine cream and sweetened condensed milk; set aside.
In a heavy 6 to 8 quart saucepan, combine corn syrup, 1 cup water, sugar, and salt. Clip on candy thermometer. Over high heat, cook until sugar is dissolved, stirring with a wooden spoon, eight to 12 minutes. Brush down sides of pan with a pastry brush dipped in water to remove any sugar crystals.
Stop stirring, reduce heat to medium, and bring to a boil. Cook, without stirring, until temperature reaches 250 degrees (hard-ball stage), 45 to 60 minutes. Meanwhile, cook cream mixture over low heat until it is just warm. Do not boil. When sugar reaches 250 degrees, slowly stir in butter and warmed cream mixture, keeping mixture boiling at all times. Stirring constantly, cook over medium heat until thermometer reaches 244 degrees (firm-ball stage), 55 to 75 minutes. Stir in vanilla. Immediately pour into prepared pan without scraping pot. Let stand uncovered at room temperature for 24 hours without moving.
To cut, spray a large cutting board generously with vegetable-oil spray. Unmold caramel from pan onto sprayed surface. Cut into 1-by-1 1/4-inch pieces, or other shapes. Wrap each in cellophane or waxed paper immediately after cutting.
Lemon Blueberry Muffins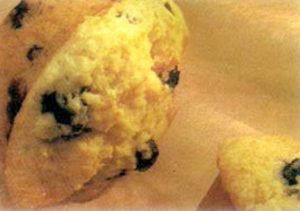 Ingredients:
1 cup butter, at room temperature
1 1/2 cups sugar
4 eggs
1 tsp. vanilla extract
2 tbsp. fresh lemon juice
2 tbsp. grated lemon rind
2 1/2 cups all-purpose flour
1/2 cup yellow cornmeal
2 tsp baking powder
1 tsp baking soda
1 cup Milk
1 1/2 cups fresh blueberries, patted dry
Directions:
Cream butter and sugar until light. Add eggs one at a time; beat well after each addition. Beat in vanilla extract, lemon juice and lemon rind. Do not worry if mixture looks curdled.
Reserve 2 tbsp. flour for the blueberries. Combine remaining flour, cornmeal, baking powder and baking soda. Add dry ingredients to butter mixture alternately with milk, beginning and ending with dry ingredients. Toss reserved flour with blueberries and stir into batter gently.
Spoon batter into buttered muffin pans (or line with paper cups); batter should come almost to the top of pans. Bake in a preheated 350 degrees oven for 25 to 30 min or until just turning golden.
Remove from pans and place on wire racks to cool.