Mother to combat Paso Robles drug problem after son finds needle
November 17, 2016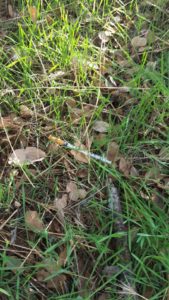 Infuriated by her young son apparently getting pricked by a needled at a city park, a Paso Robles mother is launching a crusade against Paso Robles' "heroin epidemic."
On Nov. 11, Desirae De Hoyos and a friend brought their sons to Centennial Park. While De Hoyos was walking on stairs, her 4-year-old boy, Blake, picked up a used syringe.
Initially, De Hoyos thought Blake had not been pricked by the needle. But, the next morning, her son woke up complaining about his finger hurting and De Hoyos noticed a tiny mark on Blake's finger. De Hoyos took her son to the emergency room, but it is not clear yet if he contracted anything from the needle.
After De Hoyos posted her son's story on Facebook, she began hearing more stories about the drug problem in Paso Robles, she wrote. One mother told De Hoyos that her son had, too, picked up a syringe at a city park and that there was blood in the hub.
De Hoyos also said a mother told her that, while pushing her stroller, she saw two people shooting up on the walking path behind Albertson's. Likewise, another person who works in the community said he has seen at least 10 syringes over the last month.
"In order to fix a problem you have to make others aware that a problem exists so I'm sharing this with you," De Hoyos said in a Facebook post. "I'm taking a stand and I will be a voice for our community!"
The Paso Robles mother said she has contacted the city manager, as well as the two local news outlets and the police department. Paso Robles police did not give De Hoyos a response to her liking.
"I'm infuriated! I'm not ok with the police department telling me they are aware of the problem, and that it's been a problem for four years now," De Hoyos wrote.
De Hoyos said she will now bring the matter to the city council and offer at least four ideas on how to nip the problem in the bud, keep walking paths safe and keep the town from being overrun by the heroin epidemic.