Man caught on SLO doorbell camera to serve jail time
December 6, 2016
A 38-year-old man who was recorded lurking outside a woman's San Luis Obispo home in the middle of the night will spend about a half-year in jail. Michael Dean Sutton, 38, is due to be sentenced on Thursday.
At about 2:34 a.m. on Oct. 22, a surveillance camera captured Sutton lurking by the front door of the woman's home. He was wearing gloves, a light-colored shirt, a baseball cap and appeared to be holding a syringe in his mouth.
The video shows Sutton checking the door handle and acting in a suspicious manner. Eventually, Sutton noticed the camera. He then placed a finger over the lens and wiped away debris before leaving the area.
"Ring," a virtual doorbell app, notified the woman inside the home while Sutton was lurking outside. Initially, the woman assumed the man was a lost, drunk college student. Later that morning, she watched the surveillance footage and reported the incident to police.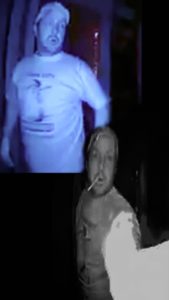 The surveillance footage then circulated online and in local media. Officers arrested Sutton on Oct. 25.
On Nov. 8, Sutton pleaded no contest to felony attempted burglary. Sutton's plea agreement calls for him to serve about 180 days in jail, as well as an unspecified amount of time on probation.
The attempted burglary conviction will count as a strike under California's three strikes law.
Court records state a sealed protective order has been issued over Sutton's case.
Sutton has remained in San Luis Obispo County Jail since his Oct. 25 arrest.