Caltrans blasts AG Cherry Avenue project
December 6, 2016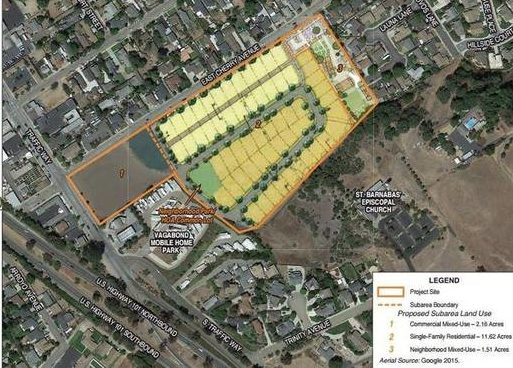 By KAREN VELIE
A proposed development of 51 homes on Cherry Avenue in Arroyo Grande is facing hurdles now that Caltrans has criticized the project's Environmental Impact Report (EIR).
In a Nov. 30 letter, Caltrans criticizes city staff for not providing Caltrans copies of the draft and the final EIR reports for the project. Caltrans became aware of the failure after former city council candidate LeAnn Akins reached out to the state agency, according to Caltrans.
The final EIR found that the development would have no significant impacts on traffic.
However, Caltrans determined the final EIR is based on "flawed methodology." The EIR does not accurately evaluate how the increase in traffic could impact the already clogged Highway 101 Fair Oaks off-ramp, according to a letter Caltrans sent the city on Nov. 30.
The analysis for the final EIR used methodology, "which among other deficiencies, does not capture actual ramp queuing movements or is appropriate for a California Environmental Quality Act (CEQA) level analysis," the Caltrans letter says. "At this stage, with flawed methodology, full CEQA disclosures have not been made."
Nevertheless, city staff is recommending the Arroyo Grande City Council approve the project at its next board meeting on Dec. 13, city officials said.
Because of the less then significant impact finding, Mangano Homes is not required to provide traffic mitigation. So, if the project is built and it creates significant traffic congestion, the costs of road work would likely fall on taxpayers rather than the developer.
In a similar battle between Caltrans and the city of Los Angeles, Caltrans succeeded in halting a project because of a faulty EIR. Caltrans found that the EIR for a skyscraper project in Hollywood "was not based on any credible analysis," and could lead to traffic issues on Highway 101. City staff argued that while required to listen to Caltrans' objections, they were not required to adopt them.
In May 2015, Los Angeles County Superior Court Judge James C. Chalfant said the methodology the city used did not address Caltrans concerns and ignored the state agency's objections.
"The city was not entitled to disagree with Caltrans," Chalfant concluded.