Paso Robles parents out of town while their home burns down
December 24, 2016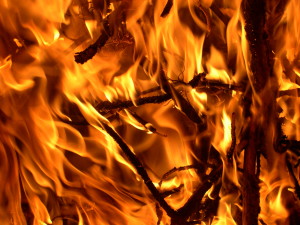 A fire destroyed a Paso Robles mobile home, as well as all of the belongings inside it, late Thursday night. At the time of the fire, a young man was home alone, and his parents were out of town on vacation.
Shortly before midnight, firefighters arrived at a 14 foot by 60 foot mobile home caught fire in the center of a trailer park to find flames shooting out of the front door.
Firefighters managed to prevent the fire from spreading to neighboring trailers. Still, the mobile home was a total loss, according to the Paso Robles Fire Department.
Witnesses said neighbors helped the man out of the home after the fire started. The man appeared to be in his mid-20s, fire officials said.
Investigators have yet to determine the cause of the fire. The blaze remains under investigation.
In all, 16 firefighters and one chief worked to extinguish the blaze. Atascadero and San Luis Obispo County firefighters assisted Paso Robles fire crews.