Two drivers charged with manslaughter over SLO County crashes
December 22, 2016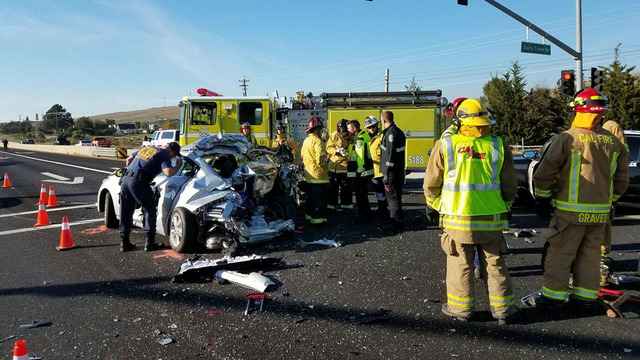 Prosecutors have charged two drivers with manslaughter over separate deadly crashes that recently occurred in San Luis Obispo County. A Nipomo man is facing a misdemeanor charge pertaining to the death of a French woman, while a Templeton man is accused of felony manslaughter for killing a San Luis Obispo bicyclist. [KSBY]
On Nov. 9, a San Luis Paper Co. and Janitorial Supply truck crashed into the rear of two southbound vehicles which were stopped at a red light next to Cuesta College. The crash projected a silver car carrying two out-of-area residents across the highway, killing one of the occupants and moderately injuring the other. Two additional people suffered minor injuries.
Authorities identified the victim as Bernadette Ettcheverry, 68, of Biscarrosse, France. The driver was identified as Conrad Evangelista, 53.
Evangelista, of Nipomo, allegedly failed to notice traffic stopped at a red light, then plowed into the vehicles. A CHP investigation indicates the crash appeared to be a "complete accident," but officials say it is normal protocol to file a misdemeanor charge in such a case.
On Dec. 3, Mark Hedges, 59, was driving a pickup truck eastbound on Old Creek Road near the north end of Whale Rock Reservoir. Hedges allegedly crossed over a double yellow line while trying to pass a vehicle and struck and killed a bicyclist, who was heading westbound.
The bicyclist was identified as, Jose Martel, 47, of San Luis Obispo.
Hedges, of Templeton, stayed at the scene and cooperated with investigators following the crash. The Templeton man was not accused of driving under the influence of drugs or alcohol.
Still, prosecutors filed a felony vehicular manslaughter charge against Hedges. An arrest warrant is expected to be issued for him.