Woman's apparent epileptic seizure leads to county confinement
December 15, 2016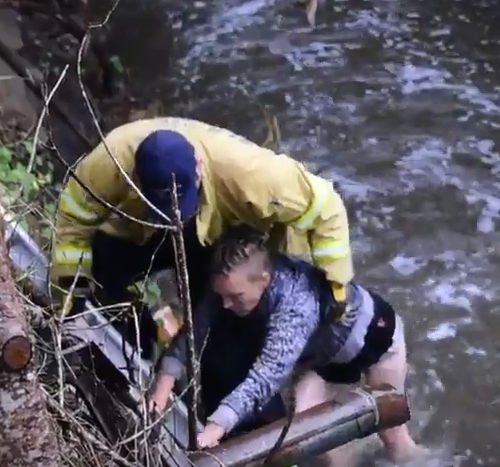 By KAREN VELIE
For more than three weeks, a woman found dehydrated and suffering from hypothermia in the creek behind Central Coast Brewery has been confined in the San Luis Obispo County mental health ward. Racheal Momsen, 34, had suffered an epileptic episode that left her disoriented and confused.
San Luis Obispo fire personnel rescued Momsen on Nov. 20 after she was spotted sitting in the creek. She had lost significant weight, was dehydrated, suffered from hypothermia and was confused.
Momsen took a walk on Nov. 8 and is suspected of having suffered a seizure. She has no memory of what occurred during the next 12 days, she said. Her blood test showed no use of illegal drugs or alcohol.
It is common for epileptics to have memory loss and confusion following a seizure. In addition, failing to take her daily epileptic and schizophrenia medications would likely have resulted in Momsen suffering more seizures.
When Racheal Momsen was about 12-years-old, she was diagnosed with epilepsy. Then in her early 20s, Momsen was handed another lifelong medical issue, she was diagnosed with schizophrenia.
For almost a decade, Momsen had issues with drugs and alcohol. She suffered from anorexia and began cutting herself, Momsen said.
In about 2012, Momsen checked herself into the San Luis Obispo County mental health facility. Her issues eventually landed her under county guardianship.
After almost a year in the county mental health ward, the county transferred Momsen to a long-term facility. Shen then graduated to a group home and then to Transitions housing where she could come and go as she wanted during the day, Momsen said.
County staffers told Momsen they had reported her missing when she did not return to Transitions housing on Nov. 8. However, Momsen was not listed as missing with the San Luis Obispo Police Department until Nov. 15. Lisa Niesen, Momsen's county guardian, has not returned requests for comment.
Momsen, who was no longer using illegal drugs or alcohol, was on medication for both her epilepsy and her schizophrenia. She was working to get out of under the county's guardianship and onto a more productive life, Momsen said.
Because of the incident, Momsen is being forcibly detained in the county mental health facility.
"I was on the way to being off guardianship, and now I am starting over again," Momsen said. "It was a medical issue and not related to my mental health. You can have schizophrenia and lead a normal life."
County Health Agency Director Jeff Hamm, whose department includes county mental health, said he is not permitted to discuss patient issues.
"The County is precluded by statute from disclosing protected information about individuals, or even to confirm or deny that an individual is in our care," Hamm said.
While it took her four years to get to Transitions housing and close to getting out from under the control of the county guardian, Momsen said she is being forced to start over again. It is not because of a mental health issue, but because of her epilepsy, she said.
"I do not like being locked up, especially not for a seizure," Momsen said. "I was told county mental health is where they put a conserved person who wanders off. They do not know where else to put me."