Floods, mudslides impede SLO County traffic
January 9, 2017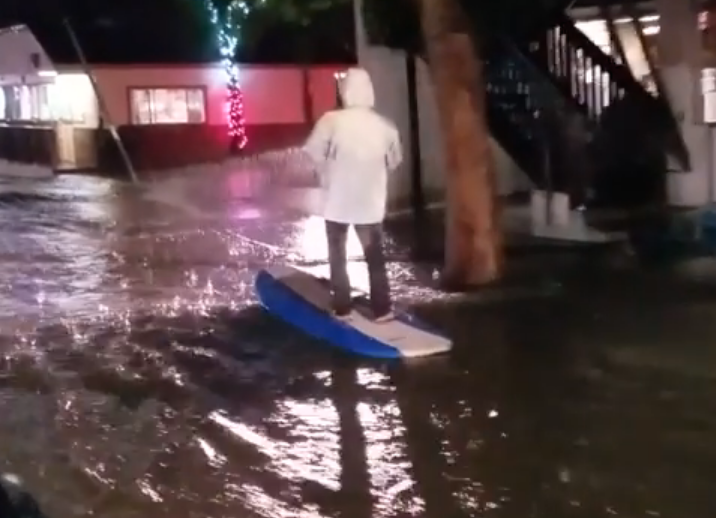 Floods, mudslides and rockslides shut down several San Luis Obispo County roads Sunday, causing problems for drivers but bestowing one man the opportunity to surf down the street in Grover Beach.
Over the past 24 hours, San Luis Obispo County received about 1 inch to 6 inches of rainfall. A monitor at Rocky Butte near San Simeon recorded 5.91 inches of rain, the highest total. The lowest total was recorded in Shandon, which received .91 inches.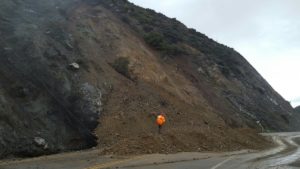 Heavy rain and wind caused mudslides, which forced authorities to close come roads and Highways, according to Cal Trans. Highway 1 south of Big Sur was closed overnight due to mudslides. Authorities also closed Highway 41 west of Atascadero Sunday due to mudslides.
Numerous car accidents occurred in the county as a result of the flooding. Some of the accidents occurred on the Cuesta Grade.
KSBY reports a 50-foot pine tree fell in Atascadero. The tree split in two, landing on the roof of a home, in the yard and on the street. The tree brought down a power line with it, causing some Atascadero customers to lose electricity and resulting in Curbaril Avenue being blocked.
Another tree fell down in Paso Robles.
In Grover Beach, a man was recording riding a surfboard down Grand Avenue. The current of the water was propelling the surfer.