Hill and Gibson espouse their political virginity
January 18, 2017
OPINION by Michael F. Brown
During the recent debate over selection of the chairman of the San Luis Obispo County Board of Supervisors, District 3 Supervisor Adam Hill's supporters, including some current and former local elected officials, repeatedly cited values of civility, collegiality, and the need for non-partisanship as reasons justifying Hill's election. This is certainly an ironic twist given the demonstrated proclivities and arrogance of these two elected officials over nearly a decade.
Hill and his somewhat more house broken partner, Supervisor Bruce Gibson, asserted that failure to elect Hill would annihilate collegiality on the board for the next two to four years.
When it became apparent that the issue was in question, Gibson stated that he was "oscillating between sadness and outrage." He went on to state that he was deeply disturbed that Supervisor John Peschong would choose to allow himself to be elected chairman.
Actually, Gibson gets outraged and impatient fairly often when someone disagrees with him.
One thing, which has become absolutely and abundantly clear over the past 50 years, is that civility and collegiality are generally a one-way street when dealing with the activist left. As Berkeley Free Speech founder Mario Savio said in the fall of 1964, "We will always be one demand ahead of you." This was after Savio led a mob that sacked Sproul Hall and shut down the campus for weeks.
The Chancellor granted many concessions in an attempt to placate Savio, Bettina Aptheker (her father was a prominent Communist), and their collaborators (largely out of state agitators from New York City).
It didn't work.
As Saul Alinsky advised the left in Rules for Radicals, "Keep the pressure on. Never let up. Keep trying new things to keep the opposition off balance. As the opposition masters one approach, hit them from the flank with something new."
A few years later the same gang and their understudies provoked the Peoples' Park riots, initiated an intermittently violent guerilla warfare which has festered in Berkeley ever since, and launched Berkeley Citizens Action, a radical branch of the local Democratic Party which has controlled the city since 1974 and has sent Assembly members and State Senators to Sacramento to spread the gospel statewide.
Other fruits of the "movement" include a disastrous rent control ordinance, filthy conditions in the downtown and Telegraph Avenue commercial areas, and uncontrollable proliferation of homeless encampments.
If you go along with the activist left's latest initiative, politically correct fad, or tax you are considered collegial and civil. If you object somewhat, but not vigorously enough to affect the scheme at hand, you are merely misguided and may get some crumbs in return. If you are strongly opposed, you are horribly partisan, out of touch, anti-science, and mean-spirited. Worse and depending on the sacredness of the issue in question (such as opposing sanctuary city or county status for your jurisdiction or supporting fossil fuels), you could be deplorable, fascist, a denier, and/or a racist.
In San Luis Obispo County, did collegiality and civility beget any reciprocity or melioration on issues such as the original local plastic bag ban, the proposed Paso Basin AB 2453 water district, Las Pilitas Quarry, or the entire array of so-called "smart growth"global warming measures designed to forestall any meaningful economic opportunity or home development?
Another excuse proffered for electing Hill was that the board should operate in a non-partisan manner.
Under this somewhat mythical and revisionist theory, the SLO County Board of Supervisors is supposedly a non-partisan body, since candidates for supervisor don't run for election under party labels.
Therefore the new board majority, which happens to be made up of three Republicans, is castigated as violating some sort of sacrosanct unwritten rule by not picking Hill, who happens to be a Democrat. But if we really desire nonpartisan county and city governments, shouldn't we prohibit registered and avowed members of political parties from running at all? Of course adopting such a prohibition would be illegal.
Actually and notwithstanding the non-partisan ballot structure, candidates for public office are often selected based on their prior partisan political participation and party loyalty.
They are often bolstered by endorsements from other partisan politicians. In 2015 Hill received campaign contributions totaling $2,299.20 from the San Luis Obispo County Democratic Central Committee.
When Gibson was running for re-election back in 2014 the County Democratic Party openly backed him and endorsed him, promoting events on his behalf under its logo.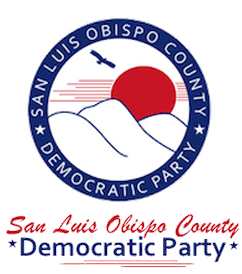 T.G.I.B! Thank Goodness It's Bruce! (Gibson for Supervisor)
The referenced event was a partisan cocktail hour fundraiser.
Is it possible that Hill and Gibson are only partisan on weekends and then somehow undergo a metamorphosis into some sort of politically innocent virgins each Tuesday?
Mike Brown is the Government Affairs Director of the Coalition of Labor Agriculture and Business (COLAB) of San Luis Obispo County. He had a 42-year career as a city manager and county executive officer in four states including California. He can be reached at mike@colabslo.org.