SLO County supervisors begin hearings on Phillips 66 rail spur
March 14, 2017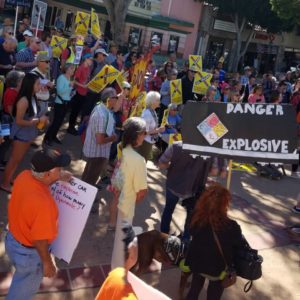 Dozens of people protested Philips 66's planned Nipomo rail spur both inside and outside of the San Luis Obispo County Board of Supervisors chambers on Monday.
This week, the board of supervisors is holding a series of appeal hearings in which Phillips 66 is contesting the county planning commission's decision to reject the rail spur project. The first hearing took place Monday and consisted primarily of public comment.
Philips 66 aspires to build a rail spur so that crude oil currently delivered by pipeline can be transported to the Nipomo Mesa refinery by train. Project plans call for a maximum of 150 trains a year to pass through SLO County to the Mesa refinery. Each train would consist of up to 80 railcars, which could each transport about 27,300 gallons of oil.
Last April, following eight months of its own hearings, the county planning commission voted 3-2 to reject the project. Phillips 66 responded by appealing the ruling to the board of supervisors, but also by filing a lawsuit.
The lawsuit alleged the planing commission misapplied county land use rules in designating a location to be an environmentally sensitive habitat. Attorneys for Phllips 66 argued the planning commission made the designation after the rail spur project was already accepted, violating a land use ordinance deadline and wasting the company's time and money.
Last week, a San Luis Obispo judge rejected most of the oil company's claims, ruling that the issue of whether or not the planning commission based its decision on a valid finding is a matter that should be addressed by the board of supervisors before the case comes to court.
On Monday, opponents of the project came from across the state to demonstrate in downtown SLO. The protests were led in part by San Luis Obispo Mayor Heidi Harmon.
"Hey Phillips. What do we know? No trains in S-L-O," protesters chanted outside the county courthouse.
Inside the county chambers, Board of Supervisors Chairman John Peschong recused himself from the Phillips 66 hearings. Meridian Pacific, Peschong's consulting firm, received $262,000 from the oil company in 2015.
In place of Peschong, Supervisor Adam Hill is serving as board chairman.
Public comment on the rail spur project will continue on Tuesday. The board of supervisors may rule on the project this week.
If there is a 2-2 vote, as many observers suspect there will be, the planning commission decision to deny the project will stand. If that occurs, Phillips 66 could take the case back to court.