SLO judge rules against Phillips 66 motion to stop rail spur hearings
March 10, 2017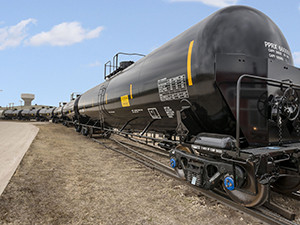 San Luis Obispo Judge Barry LaBarbera ruled against a legal appeal filed by Phillips 66 over the SLO County Planning Commission's decision to reject the oil company's Nipomo rail spur project. The court ruling paves the way for board of supervisors hearings on the project to begin next week. [Tribune]
Last April, following more than eight months of hearings, the county planning commission voted 3-2 to reject Phillips 66's plan to build a rail spur so that crude oil currently delivered by pipeline can be transported to the Nipomo Mesa refinery by train. Phillips 66 responded by appealing the ruling to the board of supervisors, but also by filing a lawsuit.
The oil company sought to obtain a court order sending the case back to the planning commission on the grounds that the commission misapplied land use rules in designating an area to be an environmentally sensitive habit area (ESHA), and thus rending the location undevelopable. The planning commission made the designation after the rail spur project was already accepted, violating a land use ordinance deadline and wasting the company's time and money, Phillips 66's attorneys argued.
SLO County, as well as six environmental organizations, intervened in the suit and asked LaBarbera to throw out the case and let the board of supervisors proceed with its appeals hearings.
Last week, the judge asked for more information about whether the ordinance contains a mandatory time frame. But on Tuesday, LaBarbera issued a ruling siding with the county and the environmental groups.
Labarbera stated in the ruling that the issue of whether or not the planning commission based its decision on a valid finding is a matter that should be addressed by the board of supervisors before the case comes to court.
However, LaBarbera sided with Phillips 66 on one point. The oil company had also argued that the ordinance the planning commission used to reject the project was unconstitutional because it is vague. The California Constitution bars the county from ruling on that matter, LaBarbera said.
According to LaBarbera's ruling, Phillips 66 can file an amended complaint pertaining to the constitutionality issue alone.
Special board of supervisors hearings on the Phillips 66 appeal are set to begin Monday and continue through the week.