Train collides with farm truck in Oceano
April 17, 2017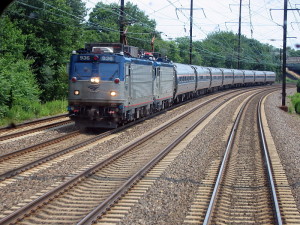 An Amtrak train collided with a farm truck in Oceano Monday morning. The crash caused the farm vehicle to flip over, but no one suffered injuries in the accident. [KCOY]
Around 7:30 a.m., the truck was hauling harvest supplies and port-a-potties on a dirt road in a strawberry field. The train clipped the back of the truck while it was crossing the tracks, overturning the vehicle.
California Highway Patrol officers say the truck driver was at fault for failing to yield to the train. About 40 passengers were on the train at the time of the crash.
Authorities temporarily stopped the train as they investigated the accident. The train then continued on to Santa Barbara.