SLO County staffers accused of bias in rating projects
May 29, 2017
By KAREN VELIE
At a contentious San Luis Obispo County Parks and Recreation Commission meeting last Thursday, several members of the public accused parks and recreation staffers of employing subjective criteria to determine which projects to move forward.
Once a year, parks and recreation department staff review the county's priority project list. The list is then used to determine which proposed and ongoing projects county staff should focus time and money towards accomplishing.
County staffers are tasked with prioritizing projects based on nine criteria including impacts to health and safety, community recreation needs and how a project will impact current services.
In this year's rating, eight of the top ten staff-recommended projects are located in supervisors Adam Hill and Bruce Gibson's districts. These include extensions to the Bob Jones Trail, coastal access in Cayucos and a bike path from Morro Bay to Cayucos.
On the other end of the ratings list, nine of the ten lowest staff rated projects are in Lynn Compton, Debbie Arnold and John Peschong's districts. These include proposals for a multi-use sports facility in Nipomo, a skate park in San Miguel and a Santa Margarita Lake trail.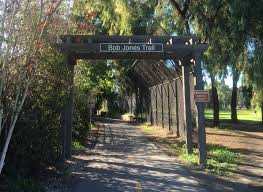 During public comment, multiple speakers questioned if staff was objective in their evaluations. Several speakers asked why projects such as extending the Bob Jones Trail were rated a five in regards to public health and safety, the highest evaluation, while creating sports parks in Nipomo was rated a two.
Several speakers said that in Nipomo, children play and skate board on the pad of a burned out building. Nipomo has the fewest parks per population base of any community in the county.
"No Nipomo projects are in the top ten," Rudy Stowell said. "It is not a balanced use of funds. There is nothing in the South County."
Of the 30 county residents who spoke during public comment, 20 asked the commission to prioritize projects in Nipomo. Several residents said that public schools charge for the use of their sports fields, which are often not available.
Following public comment, Bruce Hilton, Hill's commissioner, said he has driven by Nipomo High School when it was not locked and appeared open for children to gather. Hilton also chastised those promoting the Dana Adobe in Nipomo for seeking the return of public facility fees raised in Nipomo but spent elsewhere.
"It is hard to have a positive attitude with the Dana Adobe," Hilton said. "The emails about stolen money, I don't feel like a partner anymore."
During a Jan. 11 SLO County Board of Supervisors meeting, Compton said that more than $10 million in public facility fees generated in Nipomo had been spent in areas Gibson and Hill represent.
Developers in San Luis Obispo County are required to pay public facility fees before they can get development permits. These fees are dedicated for public facilities and parks that support the residence in the area of the development, according to county records.
However, county staff recently determined that public facility fees can be spent anywhere in the county, a finding that is likely to be challenged in court.
During the May 25 meeting, several attendees voiced plans to sue the county on behalf of the residence of Nipomo if the county does not appropriate more money to public facilities in Nipomo.
In the end, the parks and recreation priority list remained primarily unchanged aside from the Parks and Recreation Commission voting unanimously to move three projects — one in Cayucos; one in Avila Beach and one in Nipomo — from the inactive list to the active list.
Next month, the SLO County Board of Supervisors will have the opportunity to modify the parks and recreation department's priority project list.