Templeton High School vandalized with swastikas and racial slurs
May 14, 2017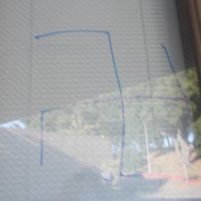 Windows at Templeton High School were defaced Saturday with swastikas and racial slurs.
At approximately 7 a.m., a school staffer found the windows marred with the racial slurs and called law enforcement. As a result, deputies are investigating this incident as a hate crime and the FBI has been notified.
In addition to the graffiti, deputies discovered a vandal had also flooded the gym causing thousands of dollars in damage to the floor. The vandal had placed a garden hose in the gym and left it running.
The sheriff's department is asking anyone with information about the incident to call 805-781-4500, or remain anonymous by calling Crime Stoppers at 805-549-7867.