Anger erupts after California speaker dumps single-payer bill
June 29, 2017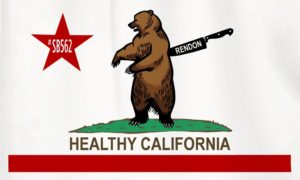 California progressives are furious with Democratic Assembly Speaker Anthony Rendon, who last week halted the the single-payer health care bill that had passed the state Senate. Rendon and his critics are now trading blows as progressives lobby for the speaker to change his mind.
On Friday, Rendon released a statement saying SB 562 was "woefully incomplete." The bill did not address serious issues, like financing, delivery of care, cost controls and necessary support from the Trump Administration, Rendon said.
On Sunday, the California Nurses Association, the leading proponent of the bill, fired back by circulating an image of Rendon stabbing the state of California in the back. The image shows a knife with the name "Rendon" on it lodged in the back of a bear on a mock California flag.
RoseAnn DeMoro, the executive director of National Nurses United and the California Nurses Association, posted the image on Twitter with phones numbers for contacting Rendon. The tweet instructed people to tell Rendon to "pull the knife out."
On Wednesday, a single-payer rally outside the Capitol featured a demonstrator sticking a fake knife with "Rendon" on it in the back of a person in a bear costume. [Mercury News]
Rendon has responded by saying he is receiving death threats. One such threat, which was posted on Twitter, suggested that someone check Rendon's "baseball practice schedule," referencing the recent Washington, D.C. shooting of House Majority Whip Steve Scalise.
Worse yet, Rendon received a comment accusing him of "killing" someone's ill son, he said.
"That was our last hope for our uninsurable son who is facing a heart transplant. He will be uninsurable once TrumpCare passes," the message stated. "You just killed my son."
In turn, Rendon is accusing backers of the single-payer bill of exploiting those who are suffering.
"It is shameful how the proponents of SB 562 have provided false hope to people who are suffering," Rendon stated.
Prior to Rendon stopping the bill, SB 562 passed the Senate on a 23-14 vote. On Friday, Rendon announced the bill was not dead, but it would remain in the Assembly Rules Committee until further notice.
If adopted, SB 562 would replace private insurers with a state agency that would reimburse doctors and hospitals for treatment. Under the plan, all California residents would receive coverage through the state system.