Thieves drive off with motorcycle trailer in Grover Beach
June 29, 2017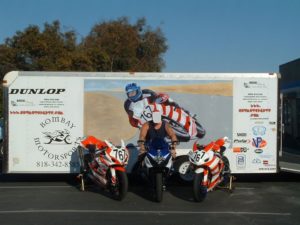 Multiple suspects stole a motorcycle trailer that contained motorcycle parts from the 900 block of Huber Street on Wednesday morning, according to the Grover Beach Police Department.
Surveillance footage show that the suspects arrived at the scene in a small black car and a white U-Haul truck. One photo shows the trailer attached to the truck.
The trailer has images of a motorcycle racer painted on its sides. Investigators request that anyone who has seen the trailer in the last 24 hours or has information about the suspects' vehicles contact the Grover Beach Police Department.