Amtrak train strikes SUV in Guadalupe, woman dies
July 25, 2017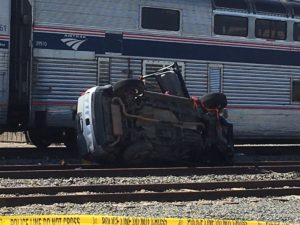 An Amtrak train crashed into an SUV in Guadalupe Monday afternoon, killing the woman who was driving the vehicle.
Shortly before 3 p.m.,  in the 4500 block of Main Street, a woman tried to go around the railroad crossing arms as the train was approaching and failed to make it off the tracks in time, according to the Santa Barbara County Fire Department. A Guadalupe woman, who was the solo occupant of the vehicle, was pronounced dead at the scene.
Authorities have yet to release the victim's identity.