Atascadero police sued over racial profiling
July 31, 2017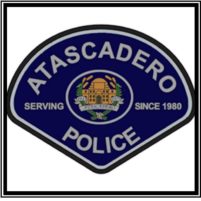 A lawsuit filed this month in San Luis Obispo Superior Court alleges Atascadero police unlawfully detained, questioned and searched a black man after spotting him with a white woman who happens to be his wife. The lawsuit alleges the Atascadero Police Department has a history of racial profiling. [New Times]
On Oct. 21, 2016, Kyle Bell of Visalia visited San Luis Obispo County with his wife and two children to spend a day at the beach. The lawsuit describes Bell, an Army reservist, as 6 feet 4 inches tall and "a very dark-complected black male."
While heading home, Bell stopped in the parking lot at the Atascadero Police Department, thinking it would be a safe location to stretch his legs and smoke a cigarette before continuing the drive. An Atascadero police officer, later identified as Rochelle Hanson, approached Bell in the parking lot and began questioning him, saying he looked suspicious. Hanson then detained Bell using a "show of force" and searched his vehicle, according to the lawsuit.
Hanson also approached Bell's wife and asked her, "Why are you here? Are you OK?" Officers eventually let Bell go.
Bell later filed a complaint with the police department. Bell and his attorney, Matthew Owdom, asked for an apology from the department and requested that officers receive training about racial bias. The police department refused to apologize and also refused to release Hanson's body cam footage of the incident, Owdom said.
According to the lawsuit, Bell believes that his detention was based solely on his race and/or that his wife is a white woman. The suit also alleges the Atascadero Police Department has a history of depriving African-American citizens and persons of color of their constitutional rights.
Additionally, the lawsuit describes Atascadero as a "sundown town" with historical hostility toward interracial relationships.
Bell is suing for unspecified monetary damages and is requesting that the court appoint a special auditor to oversee rehabilitation measures within the police department.
Hanson is still a member of the police department. It is unclear if the department took any disciplinary action against her.