California and feds clash over firefighting bill
July 10, 2017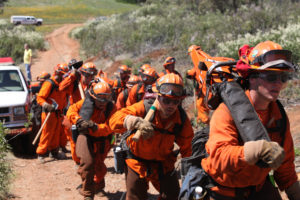 The state of California is threatening to stop sending firefighters to fires in national forests if the federal government does not reimburse local agencies for the costs of battling blazes. [Mercury News]
California Emergency Services Director Mark Ghilarducci said in a letter last week to the United States Forest Service that the federal agency has failed to reimburse local governments $18 million for fighting wildfires on federal lands last year. Ghilarducci claims the withheld money could bankrupt local agencies.
"I cannot continue to support the deployment of resources to protect federal land that ultimately may bankrupt our local governments," Ghilarducci wrote.
The federal government is expected to reimburse local governments within two months, but more than 90 percent of payments from last year reportedly missed the deadline. In 2015, two thirds of payments were late.
Ghilarducci said the federal government is wrongly relying on a "sudden interpretation" of a 1955 law that prevents the government from paying volunteer firefighters. More than a third of California's firefighting force is comprised of volunteers.
Under mutual aid agreements, local, state and federal firefighters collaborate to fight wildfires on federal land. Firefighters often travel hundreds of miles to battle the blazes.
Nearly half of land in California is federally owned, much of which is concentrated in national forests.