Cayucos Fire Department preparing to dissolve
July 7, 2017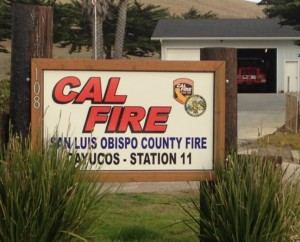 More than a year following the failure of a tax measure aimed to preserve the Cayucos Fire Department, the agency is now in the process of dissolving. San Luis Obispo County is expected to take over control of the fire department.
For years, the Cayucos Fire Protection District has been faced with funding and staffing issues. Cayucos firefighters receive some compensation but are considered volunteers by state standards. The agency also has a contract with Cal Fire, which was eating up an increasing amount of the fire department's budget.
In June 2016, Cayucos voters rejected a tax measure to fund a full-time fire department. The ballot measure was widely seen as a last chance opportunity to save the agency.
On Thursday, the Cayucos fire board decided to send an application to SLO County to absorb the coastal fire department. The county is expected to accept the application, triggering negotiations on the future composition of the firefighting agency.
In addition to the board moving to dissolve the department, Cayucos Fire Chief Mike Minetti also announced his retirement on Thursday.