Judge temporarily stops California from confiscating high-capacity magazines
July 3, 2017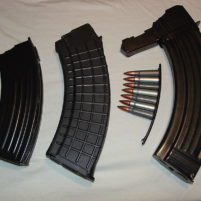 Thousands of Californians who own large-capacity magazines were due to turn them in on Saturday in accordance with a new state law. However, shortly before the deadline, a federal judge issued an injunction temporarily putting a halt to the California gun control measure. [LA Times]
In 2000, the state of California banned the sale of large-capacity magazines, but the ban allowed people who owned them at the time to keep them. Last Novembers, 63 percent of voters approved Prop. 63, which banned the possession of magazines that can hold more than 10 rounds of ammunition.
Under Prop. 63, owners of the magazines can transfer them to federally licensed gun dealers, destroy them or turn them over to law enforcement. Had the law taken effect, anyone in possession of high-capacity magazines would have faced infractions punishable by a fine of up to $100 per magazine or a misdemeanor punishable by a fine of up to $100 and up to a year in jail.
On Thursday, U.S. District Judge Roger T. Benitez put the enforcement process on hold by issuing a preliminary injunction in response to a challenge to the law.
"If this injunction does not issue, hundreds of thousands, if not millions, of otherwise law-abiding citizens will have an untenable choice: become an outlaw or dispossess one's self of lawfully acquired property," Benitez wrote. "That is a choice they should not have to make."
The National Rifle Association, its California affiliate and gun owners from the San Diego area are challenging Prop. 63 in court. They argue the law is a violation of the Second Amendment and amounts to confiscation of property without due process.
California Attorney General Xavier Becerra has vowed to defend Prop. 63. Becerra says possession of large-capacity magazines is not protected by the Second Amendment.
Prop. 63 was spearheaded by Lt. Gov. Gavin Newsom, who is currently a candidate for governor. Newsom has said large-capacity magazines only serve the purpose of "efficient and effective mass murder."