Officers chase parolee around South County and on Oceano Dunes
July 14, 2017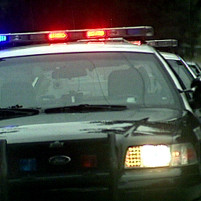 A parolee who is wanted in two counties led multiple law enforcement agencies on a chase around South County and onto the Oceano Dunes on Wednesday. After driving the wrong way on the highway and speeding by families on the dunes, the man made a last ditch effort of running into the ocean, but authorities eventually arrested him.
Around 2:30 p.m., San Luis Obispo County Sheriff's deputies were searching for Bakersfield man Joshua Anthony Jordan, 38, when a deputy spotted Jordan driving a white Lexus on Hetrick Avenue in Nipomo and tried to stop him.
But, Jordan fled and a chase began. Jordan then entered Highway 101 at Willow Road and began driving southbound in the northbound lanes, causing deputies to call off the chase.
Shortly before 4 p.m., deputies in an unmarked car spotted Jordan's vehicle heading northbound on Highway 101 at Price Street in Pismo Beach and began to follow Jordan, who then exited at Avila Beach Drive and got on the southbound highway.
Jordan exited the highway again at Price Street and drove through downtown Pismo Beach, where city police officers took over the chase.The Bakersfield man then started driving on Highway 1.
He eventually entered the Oceano Dunes at the Grand Avenue entrance and proceeded south on the beach. State park rangers picked up the chase, which hit speeds of about 40 mph on the beach.
At about 4:15 p.m., Jordan's vehicle got stuck in sand. Jordan then jumped out of the car and ran into ocean. Rangers then took him into custody at gunpoint.
Authorities charged Jordan with felony evading a peace officer in a reckless manner. Likewise, he faces a charge of felony wilful cruelty to a child with possible injury or death because families and children were playing on the beach and had to run for safety to avoid being hit by Jordan's vehicle.
Jordan is wanted in Kern County on a no bail warrant for a parole violation. He is also wanted in San Benito County for making criminal threats.
Currently, Jordan in custody at San Luis Obispo County Jail with his bail set at $110,000.