SLO County reaches $5 million settlement in jail torture death
July 27, 2017
The San Luis Obispo County Board of Supervisors has agreed to pay $5 million to the family of a man who died after jail guards left him strapped in a chair for more than 46 hours.
The board has also agreed to implement changes at the jail. However, it is not immediately clear what changes the county has agreed to make.
Paula Canny, the attorney for the family of 36-year-old Andrew Holland, hired a team of professionals to inspect the jail and make recommendations to help ensure that in the future inmates will not suffer because of neglect or mistreatment. Dr. Homer Venters, the program director for Physicians for Human Rights, toured the jail and made multiple recommendations including barring the use of restraint chairs.
A restraint chair — sometimes dubbed the "Devil's Chair" — is considered by some critics to be a torture device.
On Jan. 20, deputies strapped Holland naked in a restraint chair in the jail's frigid drunk tank where he remained until shortly before his death, two days later. During that time, deputies failed to provide Holland with adequate food and water or allow him to use a restroom.
While in the chair, a  blood clot formed in Holland's leg. Upon Holland's release from the chair, the blood clot traveled to his right lung causing a pulmonary embolism and his death.
For years, staffers at the county jail have failed to comply with state and federal laws regarding the treatment of mentally ill inmates, according to jail inspection reports.
Shortly after Holland's death, the sheriff's department sent out a press release that drastically contradicts custody records, an autopsy report and a video of Hollands time in the restraint chair. During a press conference, Sheriff Ian Parkinson painted a picture of responsible guards who properly did range of motion exercises on Holland's limbs every two hours, in accord with sheriff's protocol.
However, a video of Holland's time in the chair reveals that guards did not follow sheriff protocols in place to prevent blood clots. For example, guards rotated Holland limbs for only a minute or two at a time rather than the protocol of ten minutes and at intervals much longer than two hours.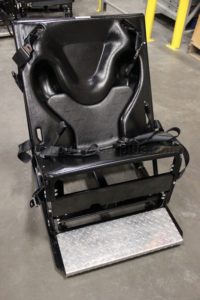 On Jan. 22 at 4:45 p.m., after restraining Holland in the "Devil's chair" for more than 46 hours, guards moved Holland to an adjacent cell, released the straps, and then tipped the chair over dumping Holland onto the cold concrete floor.
The guards then left Holland in the frigid drunk tank without a bed or clothing, according to jail records.
Multiple times, guards looked in at Holland lying motionless on the cement floor, but did nothing.
At 5:20 p.m., guards entered the cell and rolled Holland onto his back and discovered he was pale and cold to the touch, records show. At 5:36 p.m., medics pronounced Holland dead.
Shortly after Holland's death, the FBI launched an investigation into a series of deaths at the county jail, county officials said.
In the six years since Parkinson was sworn in as sheriff, 11 people have died while in San Luis Obispo County Jail custody, twice the number who died in the prior six years, according to the California Department of Justice.
Over the past decade, the use of restraint chairs have led to multiple inmate deaths. In several case, jailers have been charged with manslaughter because of their failure to follow required safety protocols.
On Tuesday, the Oklahoma State Attorney General announced the arrests of Garfield County Sheriff Jerry Niles and five Garfield County jail employees on second-degree manslaughter indictments for causing an inmate's death through negligence. The inmate was found dead last year after more than 48 hours strapped in a restraint chair.