California reportedly leads the nation in hate groups
August 17, 2017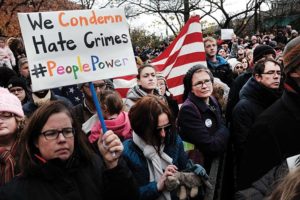 California has 79 active hate groups, more than any other state in the country, according to the civil rights advocacy organization the Southern Poverty Law Center (SPLC).
The SPLC published a "hate map" showing there are 917 hate groups in the United States. California is trailed by Florida (63), Texas (55), New York (47) and Virginia (42), where racial tensions led to deadly clashes last week in Charlottesville.
Organizations placed on the hate map include groups that are anti-Islam, anti-immigrant, anti-LGBT, white supremacist and neo-Nazi, according to the SPLC. The hate map also includes black separatist groups.
California's hate groups are heavily congregated in Southern California. There are also large clusters in the Bay Area and the Sacramento area, according to the SPLC.
The map shows that the only hate group on the Central Coast is the Santa Barbara-based Californians for Population Stabilization, which is an anti-immigrant group, according to the SPLC. The Santa Barbara nonprofit states on its website that it promotes policies that will stabilize the population of California, the United States and the world at levels that will preserve the environment and good quality of life for all.
One hate group is also listed as being located in Kern County. Vinland Clothing, which is based north of Bakersfield in Oildale, is a racist skinhead group, according to the SPLC.