Should California legalize magic mushrooms?
August 29, 2017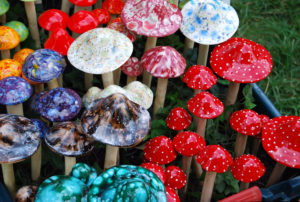 A Central Coast man aims to parlay the statewide vote to legalize marijuana into making California the first state to legalize psychedelic mushrooms.
Kevin Saunders, a mayoral candidate in the Monterey County town of Marina, filed an initiative with the California Attorney General's Office on Friday that calls for the decriminalization of psilocybin, the psychedelic compound that is produced by "magic" mushrooms. Saunders' proposed ballot measure would exempt all adults age 21 and older from criminal penalties for the possession, sale, transport and cultivation of psychedelic mushrooms.
The initiative could appear on the statewide ballot in 2018. Saunders must obtain 365,880 valid signatures in order for the measure to qualify for the ballot.
"It's a natural progression from marijuana legalization," Saunders told the LA Times. "I think we are having an opportunity to lead the discussion."
Saunders also told the Times that using mushrooms helped him stop using heroin 15 years ago.
"I think we're seeing something that could literally heal our brothers and sisters," Saunders said. "We're talking about real cutting-edge stuff."
Both the federal Drug Enforcement Agency and the California Controlled Substances Act classify psilocybin as a Schedule I drug, suggesting it has no accepted medical use and high potential for dependence and abuse. The DEA also classifies marijuana as Schedule I.
A pair of 2016 studies, however, found a dosage of psilocybin helped ease anxiety and depression for some cancer patients.