SLO High school student arrested for alleged hate crimes
March 7, 2018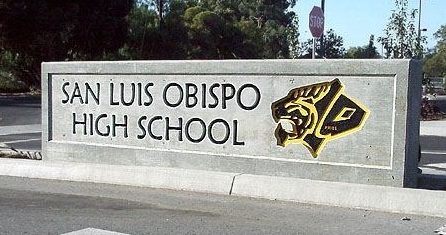 San Luis Obispo police arrested a SLO High School student last week who allegedly bullied, threatened and engaged in a physical altercation with an autistic and possibly non-heterosexual student. The suspect in the case is charged with a hate crime. [Cal Coast Times]
Both the suspect and alleged victim are 15-year-old males who attend San Luis Obispo High School. Authorities have not released either of their identities.
The suspect is accused of bullying the autistic student since the beginning of the school year. He sent threatening and derogatory text messages relating to the autistic student's special needs and perceived sexual orientation, police said.
The suspect threatened to physically assault the victim because of his autism, and a physical altercation between the two individuals occurred at SLO High in late February, according to the police department. After discovering the victim filed a police report, the suspect approached the autistic student and threatened him.
Detectives obtained an arrest warrant for the suspect and took him into custody at the police station without incident on March 1. Officers booked the suspect into juvenile hall on charges of misdemeanor criminal threats, felony hate crime and felony witness intimidation.
The teen's bail was set at $75,000.