Cal Poly spent $85,000 on policing Milo Yiannopoulos event
May 5, 2018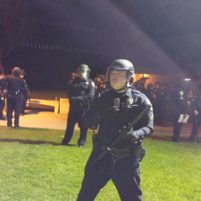 Policing and providing security for the recent fake news forum featuring controversial conservative Milo Yiannopoulos cost Cal Poly and the California State University system a combined estimate total of $86,200, Cal Poly officials say.
Cal Poly's share of the cost amounted to about $46,600, while the CSU covered about $39,600 of the bill. The expenses included providing food and lodging for several dozen officers brought to the San Luis Obispo campus specifically for the April 26 event.
In all, there were 129 officers standing guard on campus. The law enforcement presence consisted of 17 university police officers, 54 officers from other CSU campuses and 58 officers from various agencies around SLO County.
Additionally, paramedics were stationed on campus during the fake news forum. As was the case with a previous Milo Yiannoupoulos event held at Cal Poly in Jan. 2017, last week's forum proceeded peacefully.
This time, as an extra security measure, officials fenced off the Mott Athletic Center, where the fake news forum took place. Protesters stood outside the fencing with signs, while other critics of Yiannopoulos boycotted the event, choosing instead to hold potlucks or other gatherings.
Yiannopoulos was joined last week at Cal Poly by YouTubers Carl Benjamin, commonly known as Sargon of Akkad, and Austin Fletcher, also known as Fleccas. The event followed an aborted fake news panel discussion that was slated to take place in February but was canceled after uproar over the alleged racism of one of the scheduled participants.
The Cal Poly College Republicans and the Cal Poly chapter of Turning Point USA co-sponsored the fake news panel.