Creston olive oil company rebuilding after tasting room burned down
July 26, 2018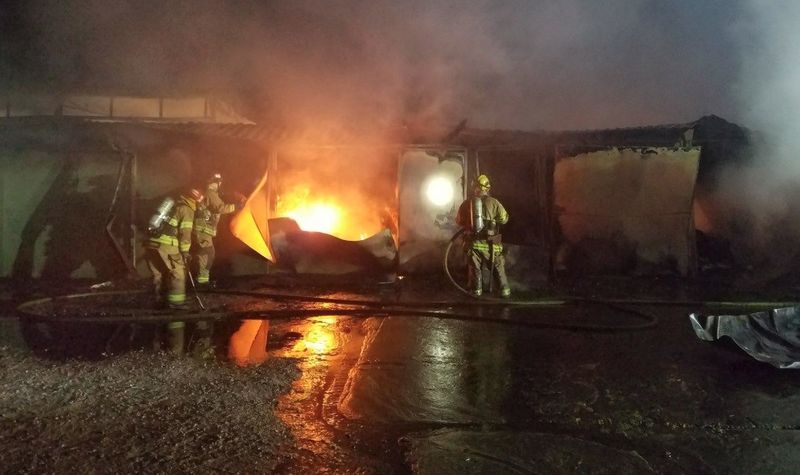 A month and a half after a fire burned down the tasting room of Olivas de Oro Olive Company in Creston and destroyed all of the business's inventory, the olive oil producer is throwing a party as part of an effort to restore its operations. [Cal Coast Times]
On June 15, Frank and Marti Menacho were on a culinary vacation in Spain when they received a surprise call from guests who were staying on their Creston property.
"We were in Spain for a week on a culinary tour visiting local olive orchards and mills," Marti Menacho stated in a Facebook post. "We were woken up by a call form guests who were staying in our guest house on the orchard telling us that there was a fire in the tasting room and crews were there working to put it out."
Firefighters contained the blaze to the tasting room but could not salvage the structure nor the business's inventory. It is unclear what caused the fire.
Olivas de Oro, which the Menachos founded in 1999, currently grows, mills and sells its olives at the same site in Creston. The Menachos moved their business, as well as their century-old trees, from the Northern Sierra Nevada foothills to Creston in 2007.
Since the blaze, Olivas de Oro has purchased olive oils from some of the local growers whose olives they mill. Olivas de Oro has also restored some inventory by purchasing olive oils from the millers that previously produced its olive oils before the business had its own mill.
The company says its current inventory of olive oils are produced the same way Olivas de Oro produces its own — by milling the herb, citrus or pepper with fresh olives. The Menachos do not know when their tasting room will reopen.
On Saturday, Olivas de Oro is hosting a "raise the roof" party at its Creston processing facility. The event will include food and music and olive oil will be available for purchase.
The party will last from 4 p.m. to 8 p.m. at 4625 La Panza Road.