ExxonMobil applies to truck offshore oil and gas on Central Coast
July 11, 2018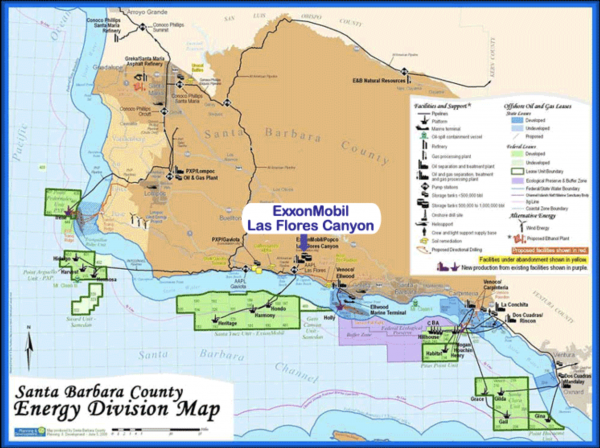 ExxonMobil is seeking permission from Santa Barbara County to restart its offshore operations and to then truck the oil and gas it produces to the Phillips 66 Nipomo Mesa refinery, as well as along Highway 166 to a location in Kern County. [Cal Coast Times]
The multinational oil company's operations off the Santa Barbara County coast have been suspended in the aftermath of a pipeline belonging to Plains All American rupturing in 2015 and causing about 100,000 gallons of oil to spill. Since 1993, Plains pipelines were the only means of transporting crude to markets, ExxonMobil stated in a project application to Santa Barbara County.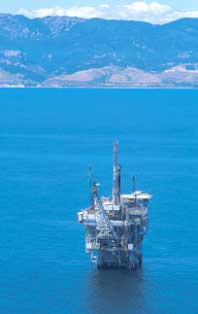 ExxonMobile says a pipeline remains its preferred long-term option for transporting crude. But as a temporary solution, the company is seeking permission to truck oil and gas from the Santa Ynez Unit facility located in Las Flores Canyon about 12 miles west of Goleta.
The trucks departing Las Flores Canyon would head northbound on Highway 101 to the Phillips 66 refinery on the Nipomo Mesa. They would also take Highway 166 east to the Pentland Terminal in Kern County. The second route includes a section of Highway 166 that crosses through the southern edge of San Luis Obispo County.
In its application, ExxonMobile is requesting permission for up to 70 truck trips per day from the Santa Ynez facility to the Mesa refinery or Pentland in Kern County. The company is seeking a permit that would end when the pipeline route becomes available again.
The offshore oil and gas come from three platforms off the Santa Barbara County coast. The oil and gas are then transferred via pipelines to onshore processing facilities, including the Santa Ynez Unit.
ExxonMobil argues that it has maintained leases for the Santa Ynez facility with the federal government. The leases have significant remaining reserves and will provide oil and gas, jobs and tax revenue for the region, ExxonMobil says.
Opponents continue to fiercely oppose the transfer of oil along the Central Coast both by pipeline and by truck.
In San Luis Obispo County, environmentalists recently succeeded in halting Phillips 66's rail spur project that would have brought oil to the Nipomo Mesa refinery by train. Instead, Phillips 66 is continuing to deliver oil to the refinery by truck.
ExxonMobil's project is scheduled to go before the Santa Barbara County Planning Commission on Wednesday.