Santa Margarita man robs neighbor
July 3, 2018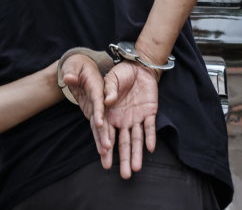 A felon who lives in rural Santa Margarita broke into his neighbor's property in California Valley and stole guns, a tablet and other items, according to the San Luis Obispo County Sheriff's Office. [Cal Coast News]
At about 6 p.m. on June 25, a resident who lives in the 12000 block of Davenport Drive in California Valley informed the sheriff's office about the burglary. The victim said his home had been unoccupied for less than a half hour when the burglary occurred, and he believed his neighbor may have been involved.
The victim had past issues with the neighbor, whom sheriff's officials identified as Daniel Donald Becker, 42. Becker lives about a quarter mile away from the victim.
After speaking with a deputy assigned to the area, the deputy working the case went to the suspect's residence. He spoke with Becker, who was holding one of the pieces of stolen property.
Becker remained inside a fenced area of his property with several dogs and refused to exit. The deputy left, because of the hour, and turned over the case to the sheriff's detective division.
Detectives drafted a warrant for Becker and a search warrant for his property. The deputy assigned to the area then took Becker into custody without incident.
Deputies collected all of the stolen property during the search of Becker's residence. Authorities charged Becker with possession of stolen property, being a felon or addict in possession of a firearm and having a misdemeanor arrest warrant out of Santa Barbara County.
Additionally, the sheriff's office is requesting that prosecutors charge Becker with burglary. Becker remains in the San Luis Obispo County Jail with his bail set at $27,000.