Solvang man threatens to shoot victim, meet in the afterlife
July 29, 2018
A 57-year-old Solvang man pointed a loaded handgun at a person's head while making threats on Friday morning. An intoxicated Timothy Johnson also posted plans on Facebook to see his victim in the afterlife, according to the Santa Barbara County Sheriff's Office. [Cal Coast Times]
"I'll see you in the afterlife," Johnson posted on Facebook.
Shortly before 11 a.m., a witness reported a man pointing a gun at a victims head on the 600 block of Roskilde Road in Solvang. By the time deputies arrived, Johnson had fled the scene.
With the help of the CHP, Johnson was located at a gas station in Buelton. Johnson initially rebuffed deputy's attempts to take him into custody, but eventually complied.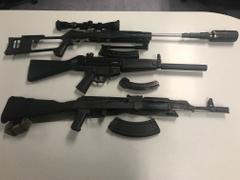 Inside Johnson's car, deputies found two loaded firearms, a .22 caliber rifle and an AK-47 rifle. During a subsequent search of Johnson's home, deputies found two additional handguns including one matching the gun allegedly pointed at the victim earlier in the day.
Deputies booked Johnson into the Santa Barbara County Jail for making criminal threats, assault with a deadly weapon, possession of a silencer, possession of an assault weapon, possession of a large capacity magazine, and for carrying a loaded firearm in public. Johnson's bail is set at $50,000.