Two vehicles crash on Highway 1 in SLO County
July 24, 2018
Two separate rollover crashes, one of which involved a big rig truck, occurred on Highway 1 in San Luis Obispo County Tuesday morning.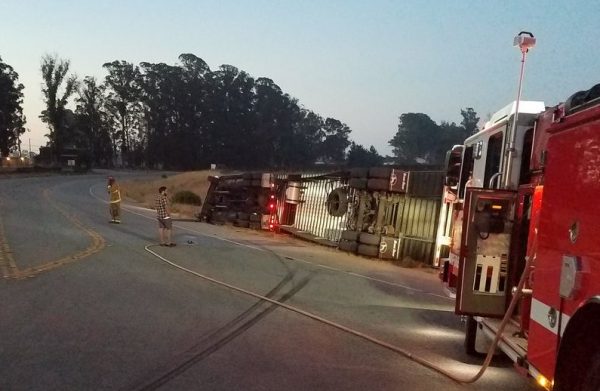 At about 5:30 a.m., the big rig rolled over on Highway 1 in rural Arroyo Grande near the intersection of Guadalupe Road and Willow Road, according to Cal Fire. The truck driver suffered a minor injury in the crash. [Cal Coast Times]
Hazmat crews reportedly came out to the scene as a result of something that spilled during the accident. An investigation into the crash is ongoing.
Shortly before 8 a.m., an SUV rolled over and came to a rest upside down on Highway 1 near Cal Poly. While heading southbound near Stenner Creek Road, the driver of the SUV reached for a cup of coffee and lost control of the vehicle, according to the CHP. [KSBY]
The SUV driver suffered minor injuries. One of the lanes on the highway was closed following the crash, and traffic backed up in the area.