DA notifies SLO County lawyers of employee's false testimony
August 15, 2018
Defense attorneys around San Luis Obispo County have now received notification that a longtime district attorney's office staffer who previously testified in court as an expert witness with a college degree, never graduated. [Cal Coast Times]
Tracy Nix, an 18-year DA's office staffer, testified in court and wrote in her resume that she holds a bachelor's degree from Cal Poly. Nix later admitted she did not graduate from Cal Poly, in a Cal Coast Times exclusive report.
In 2014, the DA's office used Nix as an expert witness in a sexual abuse case that made numerous headlines in SLO County. In that case, Ronald Cowan was convicted of sodomy, oral copulation and lewd acts with a child and was sentenced to 65 years to life in state prison. Later, a state appeals court reversed Cowan's conviction due to prosecutorial misconduct unrelated to Nix's testimony.
During the 2014 trial, Deputy DA Kelly Maderino provided a judge with Nix's resume, and Nix testified that she had a degree from Cal Poly.
Nix also testified that she taught an advanced psychology class at Cal Poly every quarter for five years for a lecturer in the Psychology and Child Development Department. The lecturer stated, however, that Nix did not teach the class, but rather appeared as a guest speaker.
Under a U.S. Supreme Court case (Napue v. Illinois), prosecutors have a responsibility to correct the testimony of witnesses they know to be false. Prosecutors also have an obligation to inform other defendants about issues relating to the credibility of their witnesses.
This spring, District Attorney Dan Dow said the DA's office was notifying every defendant's attorney in cases in which Nix testified as a witness of the fact that Nix did not receive a bachelor's degree. Defendants and their attorneys can decide whether to file a motion seeking a retrial.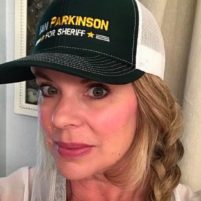 Dow previously claimed Nix did not commit perjury because "she believed she had a degree" since she participated in a Cal Poly commencement ceremony. Still, Dow hired an investigator to look into whether Nix committed perjury.
Students who have not graduated are allowed to walk at commencement so long as they agree to finish their degree within two quarters.
Nix is married to SLO County Sheriff's Commander Aaron Nix. For more than four years, Nix supported the election campaigns of both Sheriff Ian Parkinson and District Attorney Dan Dow. On Facebook, Nix has asked friends to vote for Dow and to contact her in order to get a Parkinson campaign ball cap.