Is tire mulch a safe covering for Los Osos playground?
August 6, 2018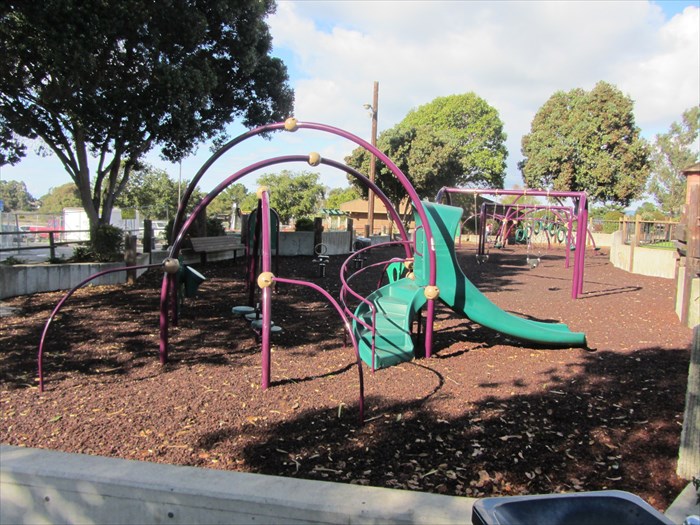 OPINION by JULIE TACKER
A few years ago San Luis Obispo County Parks replaced the playground equipment at our one and only park here in Los Osos. When they did, they also installed 240 yards of repurposed shredded tire mulch underneath it.
This black rubber material apparently meets safety standards for impact, lessening the chance of getting hurt in a playground fall, but does it meet the standards of our community?
The material reeks of petroleum, on any given day the off gassing is noxious. The children come out of the area covered in dirty residue and the material's jagged edges make it easy to cling to clothing and shoes so it tracks out all over the park, parking lot, into the street and into our watershed.
The internet is filled with frightening stories that speak to the materials potential health risks and carcinogens.
We have found pieces of it in our house when it has hitch-hiked its way home — stuck to my child's clothing. His face and hands grayed with soot each time he returns from playing there. Families don't play at this park like they used to and the complaints continue.
I reached out to SLO County Parks soon after the material was installed some years ago. I was informed it had a lifespan of about 10 years, so here we are, somewhere in the middle of that lifespan and the nuisance that it has become outweighs any reason for seeing it through its life.
Parks has told me, and others who have asked, that replacement is not scheduled until 2023.
When the SLO County Board of Supervisors was asked to prioritize it for replacement in recent budget approvals, this approximately $20,000 expense was ignored.
Residents have turned to the Los Osos Community Services District to see what they could do. The district has a pot of money (formerly known as "Pool Funds") that it may be willing to tap to cover the cost of replacing the shredded tire material as soon as this fall.
While I can embrace the district's willingness to step up, I am outraged that the county won't take responsibility and pay to clean up their mess. Bruce Gibson, District 2 supervisor could, and should, contribute from his discretionary funds to the fix — now.
Julie Tacker is a 47 year resident of Los Osos and the mother of four.