Atascadero teacher accused of filming students' panties
September 11, 2018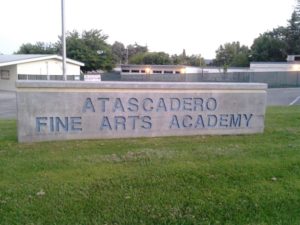 Police arrested a 48-year-old Atascadero Unified School District teacher on Monday who was allegedly videotaping his female students' underwear. At the teacher's home, officers found child porn including photos and video's of his students. [Cal Coast Times]
On Aug. 30, the school district notified the Atascadero Police Department about a teacher who had possibly video-recorded the undergarments of female students. Investigators then served a search warrant at the Atascadero home of Chris Lynn Berdoll.
On Monday, officers charged Berdoll with sexual exploitation of a child, production of child pornography and possession of child pornography.
Berdoll is a sixth grade teacher at the Atascadero Fine Arts Academy.
It appears none of the children victimized were physically molested, police said. The images police obtained did not show any adult contact with the children.
"The courageous individuals who saw something and said something allowed the district to take immediate action to ensure student safety," Superintendent Thomas Butler said. "As a small part of our commitment to the wellbeing of the students, additional counseling services are being made available."
Police have contacted the parents of all known victims in the case. But if anyone suspects their child may have been victimized, they are asked to contact Police Chief Jerel Haley or Lieutenant Jason Carr at (805) 461-5051 or Atascadero Unified Assistant Superintendent Curt Eichperger at (805) 462-4200.
Berdoll currently remains in SLO County Jail with his bail set at $35,000.