Five people displaced in Paso Robles apartment fire
September 7, 2018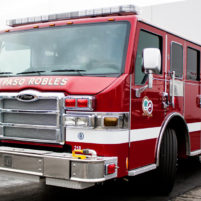 A fire broke out in a Paso Robles apartment building Thursday and displaced four residents. [Tribune]
Shortly after 12 p.m., a caller reported the fire in a building located at 102 Spring Street. Fire officials say the blaze broke out on the bottom floor of the building and spread into the second floor.
Firefighters arrived and extinguished the blaze. No one suffered injuries as a result of the fire.
Traffic backed up on Highway 101 around the Niblick Road offramp as a result of the blaze. The Red Cross is assisting the residents who were displaced.