North County winery to build a B&B out of recycled shipping containers
September 4, 2018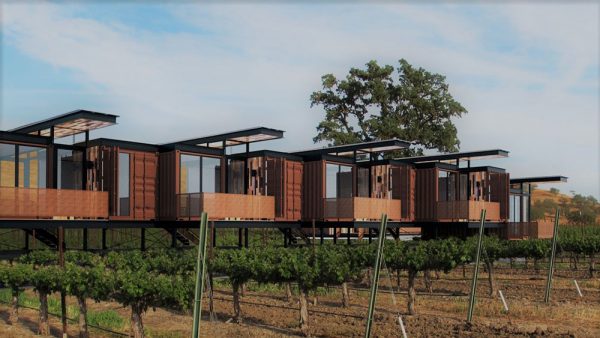 Cass Vineyard & Winery in rural Paso Robles expects to soon break ground on a bed and breakfast that will consist of eight suites built with recycled steel shipping containers. [Cal Coast News]
The North County winery is creating the Geneseo Inn, a bed and breakfast situated amid a vineyard that will be constructed using recycled shipping containers and locally available building materials. Located off Geneseo Road east of southeastern Paso Robles, the eight suites will be elevated off the ground with vineyard views from private bedroom decks.
Guests at the Geneseo Inn will have the opportunity to participate in farm education programs, as well as vineyard tours, wine seminars, cooking classes and beekeeping experiences. The inn will also serve a gourmet daily breakfast.
Additionally, as part of the same project, Cass Vineyard & Winery will be constructing a new barrel room. The barrel room is expected to not only store wine but also serve as a venue for events.
For further information about the Geneseo Inn, one can contact Kathryn Mangan at theinn@casswines.com.